Model UN Team Competes Representing Uzbekistan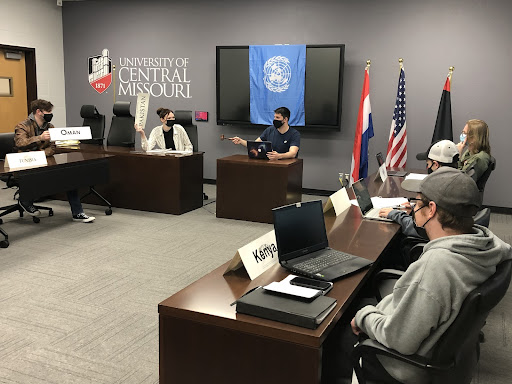 Over the weekend before Thanksgiving, the University of Central Missouri's Model United Nations team will be traveling to the American Model United Nations annual conference at the University of Chicago where the team will participate in a full simulation of United Nations committees.
  Darlene Budd, professor of political science and international studies, is the faculty adviser for UCM's Model UN team. Budd said that participating in Model UN is a great learning experience for students.
  "It teaches students about the United Nations, the organizational structure, the processes, the procedures that delegates follow when they come together to grapple with global issues and determine solutions," Budd said. "For the students, it allows them to practice their research, writing, speaking skills, persuasive speaking and also negotiation skills because they're doing a lot of interacting with other countries … to discuss and come up with a solution for various global issues."
  Budd said that the team has been attending the AMUN conference for 15 years, during which the team experiences in-depth collaboration with teams from 60 to 70 other universities, which includes approximately 1,500 students.
  Although the conference is large, Budd said that UCM's Model UN team has had a history of success at the AMUN conference.
  "We've actually had and received various awards — usually their Best Delegate Award," Budd said. "So what that means is that a student that's representing the country at a conference will be chosen by their peers as the, quote, 'best delegate' on that committee, which is a very prestigious award because the committees range in size from anywhere from 40 to 60 delegations."
  Budd also said that UCM's teams have included international students from the country the team represents, which can enhance resident students' experience with learning more about the country's culture, government and global policies.
  Gulnaz Jadigerova is this year's international student on the Model UN team, and she is from Uzbekistan. Jadigerova said that although she's not majoring in a related field, she is interested in learning about global strategies for sustainable development and international cooperation.
  Jadigerova is excited that the team is representing her home country.
  "I was so excited and proud the team chose Uzbekistan, as I am a representative from Uzbekistan," Jadigerova said. "I was actually so proud, and my classmates were interested in Uzbekistan, to know more about it, their policy, economy, culture. And I was so happy and glad to share what I know."
  Jadigerova said she is looking forward to attending the AMUN conference, but she is also nervous.
  "I'm so excited and a bit nervous because sometimes I feel like I'm a foreigner here, and I don't understand some political terms … I want to be attentive and careful there," Jadigerova said.
  Junior political science major Elise Palmer is another member of the team who is excited to be a part of this experience. 
  "Model UN and how it works and interacts with each other is the perfect thing for students who want to get into more world politics, that really want to understand how the world works outside the U.S.," Palmer said.
  Palmer also said that she thinks the AMUN conference will be highly beneficial for her and other students on the Model UN team.
  "I'm actually really looking forward to see other students there and see how they debate," Palmer said. "I think that's going to be the best experience for us."