Transfer Students Change the Institution but Continue Learning
November 8, 2021
  Freshmen aren't the only students who experience the university for the first time. According to UCM's website, "Nearly 1,200 students transfer to UCM every year" from a community college or another university.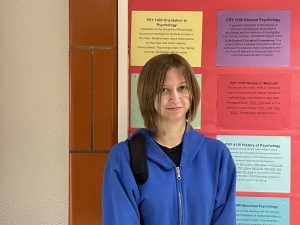 Junior psychology major Jenelle Roberts is one of the many transfer students at the university who transferred from Metropolitan Community College over a month ago.
  "My community college was a lot smaller and felt like a community," Roberts said. "People knew each other, you saw the same students repeatedly, the campus was close to home. I'm also not the best at socializing, but I have joined a club recently."
   The university has over 200 student organizations with a variety of categories.
   In addition to getting accustomed to campus life, the learning environment can also be a different experience for transfer students.
  "I would jokingly say community college was a continuation of high school," Roberts said.  "Here, it's 'Here's your book, you're going to learn this yourself.' While community colleges do that, they didn't do it to the extent they do it here. It almost felt like a stepping stone."
  Roberts is not the only transfer student having to get used to campus life. Junior computer science major Andrew McLaughlin transferred from St. Charles Community College to the university this semester. McLaughlin said meeting other students has been a challenge.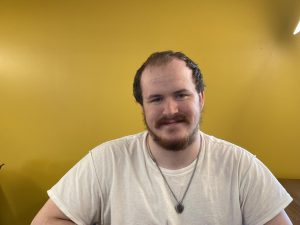 "Meeting new people is hard," McLaughlin said. "I knew students would have known each other and formed their own cliques. I was a bit nervous, especially because I'm an introvert. It's really difficult, and I am socially awkward. I have joined a fencing club, but I'm still working on being social." 
  Although the transfer transition takes time to get used to, both Roberts and McLaughlin said they are glad to have started at a community college first.
  "I'm very happy I started at a community college," McLaughlin said. "Starting at community college saved me lots of money. In fact, I'm going to be taking one more General Education course at my previous community college this upcoming summer."
  "Starting at community college was the best path for me because I pretty much received a full scholarship and got my general education out of the way," Roberts said.
   Junior digital media major Isaac Roberson transferred from William Penn University to UCM this year. Roberson went to WPU on a wrestling scholarship. 
  "At the end of wrestling season, I started to lose love for the sport and wasn't content about where I was at in my life," Roberson said. "UCM was a college I was always looking at, so I made the switch."
  Even with the challenges that come from transferring, Roberson said he wouldn't change where he started even if he could.
  "If I started here [at UCM], I would have never found out wrestling wasn't for me," Roberson said. "My past made me who I am today. I feel like it was the path of my life."