Theatre Students Ready to Perform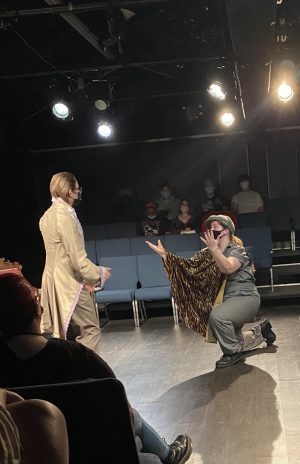 After the unfortunate predicaments of last year, students within the Theatre and Dance program are finally in full force and ready to dazzle audiences with the magic of live theater once more. Masks will be required inside the theaters and the shows will only be running at 75% capacity, but the department has multiple performances scheduled to be in-person, rather than online like last year. 
  This October, fans of the performing arts should find themselves in the seats of the Highlander Theatre and prepare to be mesmerized by Simon Stephens's "The Curious Incident of the Dog in the Nighttime," directed by Mary Trotter. The show will be open to the public at 7:30 p.m. on Oct. 8 and 9 and then again on Oct. 14 through 16. 
  This year's cast is excited to finally have live theater back in their grasp. One of these enthusiastic individuals is junior theatre design tech major Luke Habjan, who will be starring as the leading male in next month's production. 
  "I'm filled with excitement to finally get back to what theater was," Habjan said. "The actors are working their butts off to bring forth the characters and everyone is just putting in a team effort to tell a really good story."
  Theatre isn't just ending their season there. When the air gets cold and the first snow falls, "Elf: The Musical" will be there to warm the heart. The show will open at 7:30 p.m. on Nov. 12 and 13 and then again on Nov. 18 through 20.
  Choreographer-turned-director Ashley Miller-Scully is beyond excited to recreate this beloved Christmas classic. 
  "So many people are coming with expectations, knowing the movie, and I hope that we can recreate that magic that so many people love and adore," Miller-Scully said.
  The cast includes a wide variety of students, ranging from seniors and freshmen to first and third graders. These young actors and actresses will be making up the elves ensemble as well as the group of children in line for Santa.
    The department was introduced to a considerable number of new students this year following the Involvement Fair. Among these fresh and talented new faces is freshman theatre major Zacharia Bowen, who is playing Chadwick in "Elf: The Musical." 
  "The plays are going to be amazing," Bowen said. "They're going to be interesting. They're going to be funny, just truly amazing, and I think the audience is going to definitely love everything we're putting forward."
  Members of the UCM community won't want to miss the chance to watch these wonderful stories be told by the many talented students of UCM.