Intramural Teams Bring Students Together
  The University of Central Missouri offers intramural sports, which students like to participate in because they get to make memories and friends while getting a little exercise. There are many sports to participate in, which include softball, flag football, sand volleyball, indoor soccer, indoor volleyball, pickleball, badminton, tennis, disc golf, dodgeball and golf. UCM Intramurals also hosts virtual tournaments with ESports. 
  Kevin Sneed, assistant director of intramural and recreational sports, oversees all intramural sports and club sports. 
  The difference between intramural sports and club sports is that intramurals are recreational based and students only play within the university against other UCM students. Clubs are more competitive, with tryouts, practices and they host other schools and travel to other schools to compete.
  Sneed has responsibilities to get intramural sports going. He needs to decide what sports to play, decide if the leagues are a tournament or single elimination, he also needs to reserve space for fields to play, hire and train student employees and evaluate how the tournaments went at the end of the season. Sneed hires around 20-30 student workers, and they are able to choose what sports to officiate. 
  "I like working with students, I like working with participants and really the student workers," Sneed said. "You can see them when they start as an 18-year-old freshman, and you can see how they progress in their college career."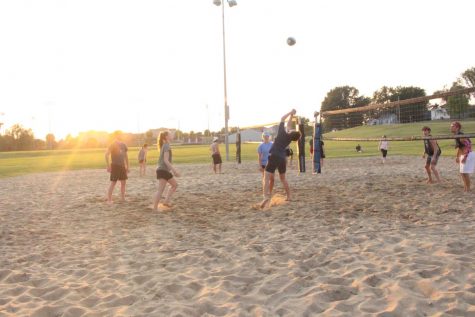 Graduate student worker Nathan Merkel is in charge of scheduling student workers to officiate games, help run the intramural program with Sneed, alter rules if needed and train workers. He has been working in intramural sports for five years. Merkel said he mostly likes officiating soccer because he used to play soccer. 
  "I like working with people, helping people find a job and make some money," Merkel said. "There's a lot of opportunities within sport that people don't realize, and I like to help people find that."
  Merkel said people should come out and play intramural sports to hang out with friends, get out of their rooms and make the most of college life by making new memories. 
  Senior Luke Vollenweider is a secondary social studies education major with a minor in history who is also a student worker for intramural sports. He is a supervisor for the games. Vollenweider said he likes to officiate flag football because he is passionate about football. He feels that he makes the biggest impact when he is officiating flag football. 
  "I like this job because I get to interact with a lot of different students at UCM," Vollenweider said. "I get to see students having fun outside of the classroom, or outside of the dorms, and I get to make a positive impact at this university by seeing students who are enjoying playing sports."
  Flag football is a popular sport among fraternities and sororities. Reece Bowlin, senior economics and finance major, is part of the Alpha Tau Omega fraternity. He has played three intramural games so far. 
  "My fraternity and I love intramural, we love the competition and the bond we make," Bowlin said. "Everyone should join a team, you make great friends and long-lasting bonds."