Thrive Students Adjust to Roommates
  COVID-19 has changed how students have lived for the last two years now, even how many people they could live with. Last fall semester, when students arrived at school for the first time, instead of in-person classes, roommates and freedom, they were greeted with face masks, social distancing and confusing regulations. For the first time in the history of the University of Central Missouri, everyone had a single room. Now it is the second year of implementing COVID-19 mandates, and the rules have changed again. These changes require adaptation from all students, including those in the THRIVE program.
  Some changes this year include that classes can be in-person, up to 75 percent capacity, students are able to plan more events with live audiences, and they have more seating options available in the dining halls.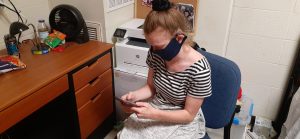 One of the biggest changes this year is that students are allowed to have roommates again. Since some newer students have only experienced living in a single room, many students are adjusting to roommates. However, some students decided to continue living by themselves.
  Marlon Hues is a second-year thrive student who wants to be a hairstylist. He had a single room last year and this year. He said the best thing about having a single room was how spacious it is. Having a single room means having more room and storage.
  When talking about the negatives, he said that there were no issues.
  "I like being by myself," Hues said.
  When discussing if he was willing to have a roommate in the future, Hues said, "Maybe in the future, but I want to try to live on my own."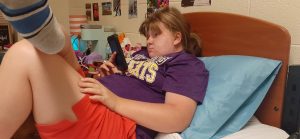 Second-year photography student Skylar Parish, one of last year's freshmen who had a single room, has a double room this year, and she's adjusting to having a roommate. Parish said one of the positives of having a roommate is that you can share food. However, Parish said having a roommate can be stressful. Due to the fact they can be messy. If given the choice, Parish said she would prefer to be by herself. 
  Not all roommates are stressful. Hailey Williams is a freshman in the Thrive program who said she likes having a roommate. She said it's awesome because her roommate was interested in the same hobbies she was in, and they were able to bond over shared interests.
  When asked if she would pick a single room or roommate given the chance, she would pick a roommate because she would like to have some company. She also said it does take some time to adjust.