Walking In the Shadows, She Has No Fear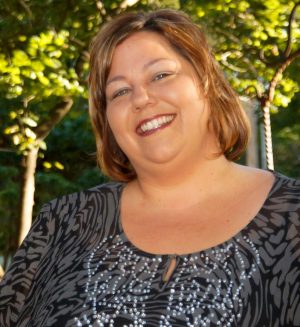 Rachelle Burnett has spent hundreds of hours on the streets. She has traveled deep within the sprawling homeless camps around the Kansas City metropolitan area, with which she is intimately familiar. She knows most, if not all, of the people by name, and they all know her. She appears to be invincible. In a place where violence and abuse are often the norm, Rachelle walks freely. In the dark, she is surrounded by potential predators, who are often driven to act on sheer desperation.
Someone might be forgiven for thinking that she is some sort of character out of a comic book. That she has some invulnerability or psychic powers that protect her, but she has neither. She is simply a very human, middle-aged woman with a kind, but tired face; the type of face that has seen more than its fair share of sorrow and joy.
Though, in a way, Rachelle does have what some people might consider superpowers  — or maybe they're liabilities. She has an apparently limitless supply of compassion for those in need. And, arguably, a consuming selflessness. It is these strengths that have granted her what seems like invulnerability in some dangerous environments.
"Our house never really knew a stranger growing up," Rachelle said while sitting at her dining room table. The sun is setting in the window behind her, framing her face in shadow. 
"My mom always had somebody here. Whether it was a friend, or friend of a family, or anyone down on their luck. She always had room for them."
It would seem that desire to help others was something that Rachelle inherited. Most people would ask their friends what they wanted to do on a Friday, but Rachelle and her friends ask each other, "Where do you want to go?" While most people have a nice dinner with family or friends, maybe catching a movie, Rachelle and crew drive around the city in a van packed with blankets and water, looking for people in need.
At least that's how it started.
What began as random laps around the city, hoping to find a person in need, quickly grew into something much more. Rachelle and her friends found others with the same mentality. They soon joined forces and got organized. Facebook groups were started, sign up sheets were made. Helping the less fortunate became a coordinated effort.
Walking around her detached garage, Rachelle is surrounded by shelves, bins, bags and boxes.  Instead of finding cars or trucks, there's clothes, toiletries, propane tanks, shoes, camping stoves, tents, and towels. The vast amount of Amazon packages is striking. Rachelle explains people buy items and have them delivered to her house so she can distribute the supplies to people in need. She gets donations from local grocers, bakeries, the local girl scout troop and many others. 
When asked about how it all started, she smiles and begins with, "I saw a homeless woman walking down the street by my work," Rachelle hunches her shoulders, trying to show how the woman had looked, "she had this tiny square of a blanket, trying to keep warm over her back. Hurt my heart a little bit."
This 'hurt' in her heart seems to never have completely been mended, and it drives her to continue putting the needs of others above her own. 
Finding Friends, No Matter How Low They Might Be
  "They could walk into any camp down there and they don't got to worry about nobody doing anything to them," Terry Friends, a kind, sleepy-eyed Black man, said as he sat on his bed across the small room, recounting his experiences with Rachelle and the others. "If you didn't give 'em permission to come into your camp, they still come in."
  Before moving into assisted living, Terry used to live on the street. That's when he first met Rachelle. Back when he was living in a tent with his then-girlfriend.
  "I asked her one day, 'why do you do it?'" he said when talking about his early interactions with Rachelle in the homeless camps back in the woods.
  It's clear from his demeanor that he was not used to interacting with people quite like Rachelle back then.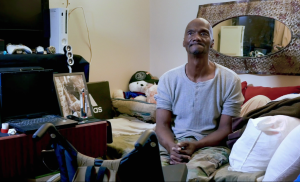 "She told me [it was] because she cared," Terry said. 
  He shook his head and said, "When you got family members that don't care … that's kinda bad, you know? But [Rachelle and her friends] cared."
  Terry crosses his legs. His feet are uncovered — what's left of them. He lost a good part of both feet to frostbite years ago, a result of sleeping in a tent on the ground in winter.
  "I was in the hospital," he said, "And they told me I wasn't going to live but three weeks … but I'm still here. I'd lost hope in God, man … I lost all hope and faith until I met them."
  Terry said, "[She] gave me a reason to live again."
  Rachelle has built a level of trust within the homeless community that is hard to comprehend. Her countless hours of devotion and sacrifice have given her a place of almost eminence among the people she tries to help. A lot of it comes from how she views them.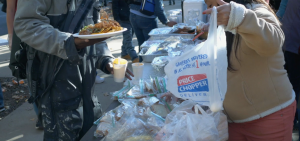 One of the constant services Rachelle and her friends provide is a buffet style lunch in the park every Sunday where they serve hot food and pass out needed supplies.
  "When you see the same people every week," Rachelle said, "and you're greeted by the same people and you're greeted with a hug, it might be the only hug or the only interaction they get with a person all week long. It's almost like there's this invisible fence around the park that once they enter it, they can be themselves."
  Rachelle gets to see a side of the people she helps that few others take the time to notice. She provides a safe space — a place where they aren't forced to beg for money or huddle in a corner to keep warm. It's an opportunity for these sometimes forgotten people to leave behind the basic struggle that is daily survival and interact with other human beings in a healthy way.
  "There's bonds being built," Rachelle said.
  And those bonds were proven in a heartbreaking way.
Mourning the Dead with Help from the Living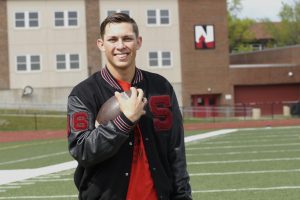 Rachelle's adult son, Tyler had often joined in her efforts. He would ride along on night runs checking on people and he would help out with the lunches at the park. He had built his own relationships, often staying and talking for hours with some of the people he had grown close to. They counted Tyler as a friend.
"The summer of 2018 … " Rachelle's voice trails away. Tears swell in her eyes. "Tyler got sick." She sits for a moment in silence. "We found out that he had cancer."
Rachelle recounts the sorrowful story of her son's brief, but vicious, battle with an extremely rare type of cancer called clear cell sarcoma. A battle that transformed her smart, athletic, college student son into an emaciated bed-ridden shell of who he had been.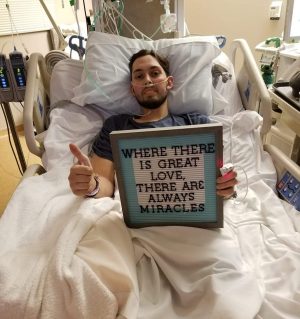 "Tyler passed away on a Sunday morning," Rachelle said while dabbing at her eyes, "it only seemed appropriate that I go down to the park on that Sunday. So I did. With all of my family."
"My blood family," she makes sure to clarify, "when I got to the park, I was greeted by the family I had grown to love."
"While it was the worst day of my life, it was also the most beautiful," Rachelle said.
One of the people who helped Rachelle when she was grieving the loss of her son, Tyler, was Carrie Paxton, who has been homeless for years and received support from Rachelle.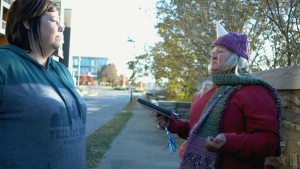 Carrie frequently writes poetry and draws, and when Tyler died she presented Rachelle with an original drawing, which she explained came from divine inspiration.
"I woke up in the morning and the good Lord showed that to me," said Carrie as she tells of a picture she drew for Rachelle after Tyler's death. "I fell on my knees, and I cried … Lord Jesus, this is gonna hurt Rachelle too bad."
Rachelle found comfort from those who used to be strangers. A group of people that many often neglect or ignore had become a family to her. When Tyler died, the community mourned with Rachelle, and the family she found became her support system.
Rachelle continues to do what she has always done; she helps people.
She has no plans to quit her work with the homeless following her son's death. On the contrary, she might have given herself an even greater burden to shoulder. Now she is also an active advocate and fundraiser for cancer research.
"That's my new mission," she said. "To save one for Tyler."

To learn more about Rachelle's story watch Tim's documentary "Sometimes It Hurts."