Senior Spotlight: Alex Madera
  From the Dutch Caribbean Island of Curacao, Enrique "Alex" Madera has been playing baseball since he was eight years old. Because Curacao doesn't have organized high school or college baseball, he would practice by stretching and taking some ground balls. He played baseball at North Central Missouri College for two years, and is now a starting shortstop for the University of Central Missouri.
  Madera said the conversations he had with Coach Kyle Crookes impacted his decision to come to UCM. He felt that Crookes's values of hard work synced up with his own. 
  "When I first talked to the coaches and came to visit here, I really felt this was a good place for me," Madera said. "I just knew I'm going to come here, and I'm going to get better."
  He said he was surprised to see how strong and talented everyone around him is at the university. 
  "Coming from where I came, you don't see a team with the same focus, the same strength, the same mindset." Madera said. "When I came here, I found that I know I can rely on every single one of my teammates, and they would be as hardworking as I am."  
  Junior outfielder Brennen van Breusegen has built a strong relationship with Madera since becoming part of the team.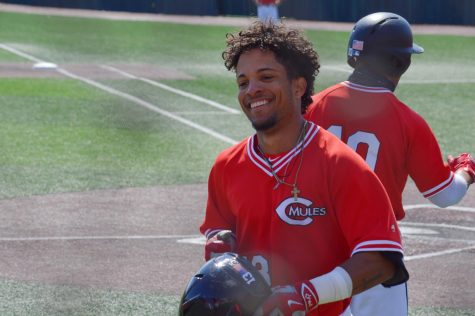 "He's the bigger brother I never had," van Breusegen said. "He's always kind of held me under his wing when it comes to keeping level-headed and maturing in the game and outside of the field."
  Madera has been 2,000 miles away from his family in Curacao for more than a year, and the way he has handled the distance is impressive to not only his teammates but also his coach.  
  "He's a consistent positive energy force regardless of the circumstances," Crookes said. "For a lot of people it would be challenging, but he's thrived." 
  Madera is a computer science major graduating at the end of the 2021 spring semester. He loves working with computers and solving any problem he comes across. 
  "I think there's more to him certainly than just baseball," Crookes said. "He's extremely intelligent when it comes to what he does for school." 
  Madera said he finds something new every day to keep life exciting. When he isn't at practice or in class, he is gaming or listening to Hispanic rap music. After being away from his family for so long, he said he is excited to go home after his graduation this spring. 
  "From there, I'm just looking for work or anything God has planned for me," Madera said.