Athletic Department's "Shooby" Battles Cancer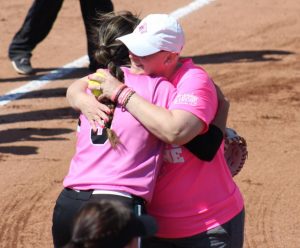 Assistant Athletic Director for Development, Michelle Schubert, is battling breast cancer. Through her journey, Schubert has a big support group. She has her husband, children, the Shooby Strong nation, cancer survivors, friends, coaches and co-workers. 
  She also has received support from the university community as the athletic department has organized fundraisers. 
   Schubert got her first mammogram on Nov. 3, and then had a biopsy. She was diagnosed with breast cancer on Nov 20. 2020, and she started her chemotherapy treatment at the end of December. Schubert is on round nine of 12 for chemotherapy. 
  Schubert was born in Warrensburg, Missouri. She went to Warrensburg High School, attended Central Missouri State University and graduated in 1999 with a human resource management degree. In 2017, Schubert got her master's degree in sports management from UCM. Schubert started working for the university in 2000 and has been working for the athletic department for the past 11 years. Her job is to help with the Muletrain, annual fundraisers, tailgating before football games, the booster club and be in contact with donors for scholarships. She usually works at home and comes in as needed.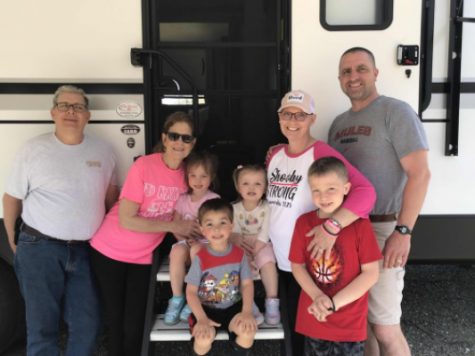 At home, Schubert is a loving wife and mother. Her husband of 22 years, Dan Schubert, has been supportive throughout their marriage. She is a mom to four children – Brent, Addie, Eli and Cambrie. Brent is eight years old, the twins, Addie and Eli are four years old and Cambrie is two years old. 
    When Dan heard the news of Michelle's diagnosis, he said it was shocking, and he was floored. He never thought they would go through this experience.  
  "Me and the kids are lucky to have Michelle," Dan said. "I look forward to getting through this and giving back to those who have helped us as much as we can once it is over."
  He said the biggest part of their approach is faith and positivity and that Michelle is very positive, it's in her nature. 
  After her chemotherapy is completed, Schubert has decided to have a bilateral mastectomy in June, which is a surgical procedure involving the removal of both breasts. She said she will remove both so she will not have to worry about cancer in the other breast in the future.
  "It's nice to have support cause it keeps your spirits up," Schubert said. 
  When Schubert was thinking about a group name for her supporters, she could not think of anything that suited her, until she thought of the texts from Mike Nicholson, the women's assistant basketball coach, where he called her "Shoobydoo".
  "It was Shoobydoo, then it became Shooby Strong," Nicholson said. 
  The Shooby Strong nation has been supportive in many ways. They organized a fundraiser on Feb. 25 at Milestones Barn to assist with travel and treatment costs. 
  Stormy Taylor, recorder of deeds at the Johnson County Courthouse, has known Michelle for 18 years and helped with getting the fundraiser started. She helped with creating the t-shirts, bracelets, the Shooby Strong auction  and an online raffle, which is counting down to Michelle's last day of chemo. The women's basketball and softball teams have also been supportive in regards to the fundraising as well.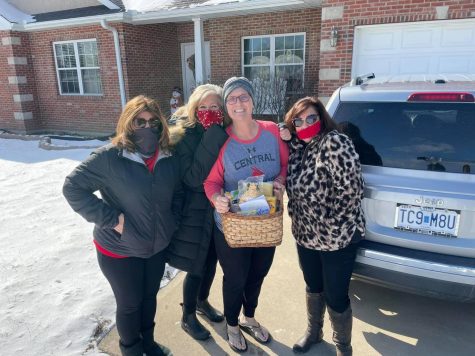 "Michelle is one of the most giving and probably the sweetest person I've ever known," Taylor said. "Her personality and kind heart is definitely the reason that everyone knows her and loves her so much." 
  Taylor said Michelle is more positive on her bad days than most people are on their good days. 
    Schubert has a deep connection with religion and said her faith is the number one reason why she can beat cancer. She also has her support group and her Caring Bridge website, where she updates her progress.
  "For me, I do like to share because I do believe in the power of prayer and I do believe the more people that are sending all of the positive energy, I just believe that it helps," Schubert said. "I've always been a positive person and I always have been."
  Throughout her battle, Psalms 31:25 has been a reassuring reminder of her faith and support.  
  "There's a part of the verse that says 'laughs without fear of the future', because I'm very optimistic, and I don't fear this breast cancer," Schubert said. "I am not fear-filled. But I am hope-filled, and I think if I can share that message that I am strong I'm gonna be fine with this and it's all good." 
  Schubert said she believes everything happens for a reason and that she will be cancer-free one day. She does not worry about the future but just taking it one day at a time and enjoying life. 
View Comments (1)
About the Contributors
Meah Copeland, Sports Editor
Meah Copeland is a senior Digital Media Production Major. Her emphasis is in Digital Journalism and Sports Reporting and Broadcast. Meah started writing...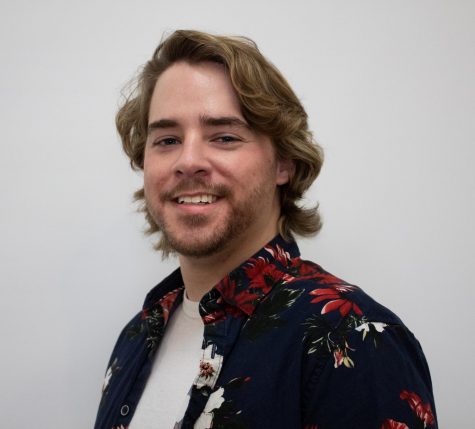 Adam Sullens, Illustrator
Adam Sullens is an illustrator for the Muleskinner. He draws cartoons for the newspaper and designs other creative works. He's from Jefferson City, Missouri,...