Campus Resurrected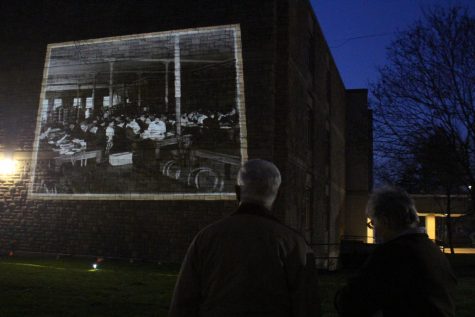 On April 1, the University of Central Missouri University Museum and McClure Archives led a Historical Ghost Building Tour on campus. This tour served as part of UCM's 150th anniversary celebration, and was designed to highlight the university's history and growth throughout its existence.
  The event was open to the public and encouraged the community to learn the history of UCM's campus from its founding in 1871 to the present day and focused on the vast changes that have occurred.
  The walking tour began at the James C. Kirkpatrick Library and ended in the Quadrangle, in front of the Administration Building. While the crowd was led around campus, facts were given about each building.
  Many non-academic buildings were built in the mid-1900s. The University Health Center was built in the 1950s and was originally meant to help World War II veterans with post-traumatic stress disorder. The Elliott Student Union was constructed in 1962, but quickly became overcrowded as a student activities center. Its namesake is after President Ed Elliott for his responsibility in its amenities and multiple additions. 
  The first dormitories on campus were Yeater, which was the women's dorm, and Diemer for the men. These are located on opposite sides of campus in order to keep men and women separate. Both buildings are now out of service because of structural hazards, including asbestos.
  One of the main focuses of the tour was to acknowledge how the fire of 1915 affected the campus. Caution tape and solar-powered garden lights were used to show areas of campus where some of the original buildings once stood, including Old Main. Old Main was the university's first building, which completed construction in 1882. Everything on campus took place in this building and the top floor was the library. In the 1915 fire, Old Main was completely burned to the ground. Dockery was also damaged, but it was restored and is still used on campus.