Davis Serves the Campus Community
 Junior kinesiology major Dawson Davis continually serves the University of Central Missouri and the Warrensburg communities. Dawson began serving at UCM in 2018 after his community adviser told him to run for hall council president. Since then, he has taken on multiple projects that serve both the school and the community. 
  UCM alumna Jodi Pedersen was Davis's community advisor at the time who told him to run for president of the hall council.
  "Service is about relationships and building that community," Davis said. "If you're not building your relationships in the community, what are you doing here on Earth? 'Cause your whole purpose is serving others, that's essentially my life goal is to serve others, one way or another."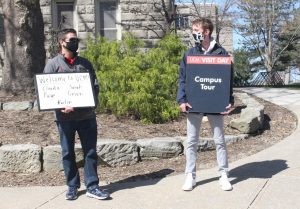 Davis is involved in many community activities at UCM, including the United Student Housing Association, Student Government Association, National Residence Hall Honorary Chapter, National Conference staff, and he gives tours to incoming students as a Student Ambassador.
  Kaitlyn Correll, senior speech-language pathology major, said she and Davis have known each other for a year, and met at the NRHH meeting. She said Davis is very persistent and will take criticism to better himself. 
  "He works really hard, [is] really dedicated and committed to the organization in UCM," Correll said. "Everything he does, he puts lots of effort, passion and dedication." 
  Davis also gives back to the Warrensburg community by being involved in Operation Christmas Child, Project Safe and Project Alliance. Outside of Warrensburg, Davis is an advocate for the transgender people of color, and advocates for better health.
  Violence Prevention Specialist Wesley Hobson has known Davis for two years and said Davis has made an impact on him. Hobson said Davis is always kind to him and does what he is told and is one of those people who goes above and beyond. 
  "He's been able to maintain a good balance between work, school and service," Hobson said. "He has the ability to work hard in a variety of aspects and [is] always full of energy and doing his best."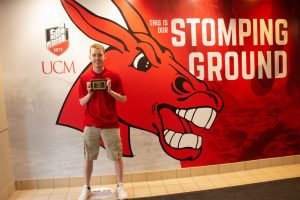 Davis is recognized on regional and national levels for his service. His regional involvements include NCC Recording Secretary and Regional Leadership Conference Parliamentarian. His national involvement includes the National Association of College and University Residence Halls Annual Conference Staff. He sits on one national committee and chaired a national task force to create "Of The Month" resources for over 450 institutions in six countries. Of the Month is a way to highlight an individual or group for an accomplishment within a specific month. 
  Davis wrote over 135 OTM nominations, which included 56 campus winners, 25 regional winners and 22 national winners. Currently, he is ranked number one in all of NACURH for writing the most OTM's out of 10,000 student-leaders. 
  Davis said when he does service, he feels good that he can give back to his community because they do so much for him. He encourages other people to do the same. He will be the USHA Executive Director for the 2021-2022 school year.