The Players
April 6, 2021
With no preseason games, a bunch of fresh faces, and cutting last season short because of the COVID-19 pandemic, the University of Central Missouri's Jennies basketball team was not sure what to expect coming into this season. The team fell a few points shy of a trip to the championship game, but they are still proud of their 2020-2021 season.  
  "We had a lot of freshmen coming into this season, and we didn't have many expectations about how it was going to end up," senior guard/forward Nija Collier said. "When they walked in, they had the same type of mindset as us. They were in it just how we were, and we were feeding off of each other's energy."
  The energy and younger players contributed greatly to the team's success, but ultimately it was not enough to take down the number one seed.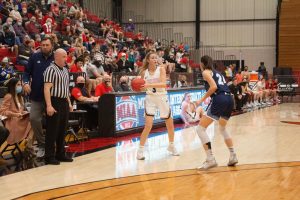 "I really felt like before the final four game, it hit everyone that it was real and how close we were to this big goal," Senior guard Gigi McAtee said. "I was just super proud of our team for how far that we got. Obviously, we don't ever want to be satisfied, but we definitely can be proud of this season."
  The Jennies' loss came down to the final plays of the game. Freshman guard/forward Brooke Littrell, guard/forward, led the Jennies in scoring, but was taken out during the final seconds with an ankle injury. 
  "It was a really big bummer, but my teammates were there for me," Littrell said. "I'm starting to walk a lot better. I got some 15-foot jumpers in and some free throws. Trying to slowly work back into the game and take it easy."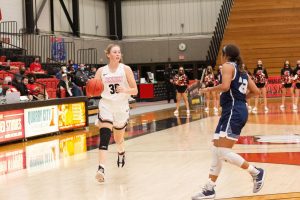 The Jennies support one another through injury, loss and growth. 
  "Coming in, the seniors really taught us how to win. They were there to help us, and I think that is what made us successful," Littrell said.
 Mentorship is an important part of the teamwork and success of the team. The seniors mentor the freshmen. While the experience wasn't there for the young players at the final four game, the thrill was.
  Freshman guard Olivia Nelson is a guard on the team who was able to learn from this season's experience.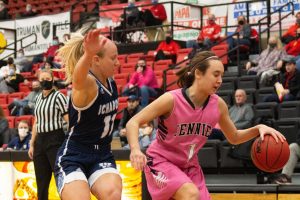 "It was super exciting because us freshman didn't really know what to expect, but we were just in the moment," Nelson said. 
  A young team means there's time to grow and keep practicing. With a taste of what it's like to make it to the final four, freshmen know what to expect for next time.
  "Being a freshman, I think it was more about being exposed to college basketball in itself," Nelson said. "Now I look at it more as we were four in 250 teams, which gives us something to work towards as freshman. We have three more years to play and get back there to try again."