The Game
April 6, 2021
 On March 23, the University of Central Missouri Jennies basketball team traveled to Columbus, Ohio for the NCAA Division II Women's Elite Eight, and the Jennies (23-4) advanced to the final four.  The Jennies (23-4) won their first game of the Elite 8 Tournament against the Belmont Abbey College Crusaders, North Carolina (24-3) 65-42, but they went up against the No. 1 seed — Lubbock Christian University Chaparrals, Texas (22-0) and lost 63-61.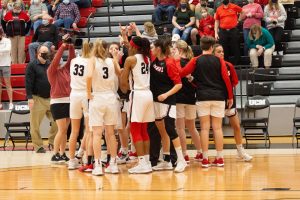 Before the game against the Crusaders started, these teams were the top two rebounding teams in Div. II. The Jennies forced 18 turnovers on the Crusaders and scored 20 points off of them. The Jennies went on a 17-3 run to start the game and didn't trail again. 
  The leader for the Jennies was freshman guard/forward Brooke Littrell, who scored 17 points, rebounded 10 times, helped with two assists and had one steal. Littrell earned her 10th double-double of the season. Freshman guard Olivia Nelson also scored 17 points, had three steals and six assists. The Jennies finished the game shooting 44 percent from the floor, made 39 percent from the three-point line and made 75 percent from the free-throw line. 
  The first half of the next game, which was against the Chaps, was led by Jennies 33-26, but in the second half, the Chaps made a comeback and made it tight for the rest of the game. 
  Toward the end of the game, the Jennies were down by two points and had the last possession of the game. Senior guard Morgan VanHyfte's last second 3-point attempt was blocked by the Chaps.
  The Jennies finished the game shooting 41 percent, scored 18 percent from the three-point line and made 68 percent on free throws. Littrell had another double-double game of 16 points and 11 rebounds. Senior guard Nija Collier scored 11 points and 10 rebounds. Nelson added 11 points. UCM scored 16 points off the bench. 
  The Chaps leader was senior guard Allie Schulte, who scored 24 points and had four rebounds and assists. Senior forward Emma Middleton scored 14 points and led the Chaps with five blocks. 
  The Jennies finished their season at 23-5, and now sit at 31-22 all-time in NCAA Tournament games.