PULSE-W Summit Empowers Women to be Authentic
  From explaining the importance of authenticity to defining gender and self-care, PULSE-W is a summit to empower all women. The 2021 summit took place from 10:00 a.m. to 4:00 p.m. on March 6 in the Elliott Student Union. UCM faculty and guest speakers led presentations on women's representation, gender, health and mental health.
  Myah Duncan, the Elliott Student Union social media/marketing graduate assistant, helped organize the event, and said it went really well and was very informative. She said she thinks the UCM community was able to learn a lot during the event, herself included.
  "I'm still learning how to be an empowering woman, but I learned a lot today," Duncan said. 
  The event started with keynote speaker Suzanne Wheeler, who is the Executive Director of the Mid-American LGBT Chamber of Commerce. Wheeler is a transgender woman who is an LGBTQ+ and veterans advocate. Wheeler is also a retired Army Colonel combat veteran who spent the last two years of her career serving as an out, transgender woman. 
  The title of Wheeler's presentation was "I am Authentic." She spoke about the process of forming diamonds and compared it to a person discovering who they really are. 
  "Figuring out who you are is a really, really tough challenge," Wheeler said. "We're always growing, always changing."
  She explained the challenges that come with being authentic in American society.
  "Ultimately, we live in a patriarchy," Wheeler said. "We live in a heterocentric and ciscentric society that is also eurocentric."
  These factors can make it difficult for a person to be their true selves. When a person doesn't fit the standards of society, they feel pressure to put on a mask or a persona. 
  During her speech, Wheeler quoted Maya Angelou, saying, "If you're always trying to be normal, you will never know how amazing you can be."
  Authenticity requires a person to be honest with themself and vulnerable, but they also can't be self-righteous. Wheeler explained the importance of finding people who are authentic and supportive during the journey to becoming an authentic person. She said it takes a lot of motivation, energy and hard work to be authentic, and support is needed.
  "Being authentic clears the way for the next person," Wheeler said.
  The PULSE-W summit was full of people supporting women. After the Keynote, there were presentations from Delia Gillis, professor of history and director of the Center for Africana Studies, about Black Women in Media, Politics & More and Candice N. Moran, licensed psychologist at the University of Central Missouri Counseling Center, about Mental Health. 
  Moran talked about the definition of mental health and what has traditionally been researched when we define what healthy means. They explained that historically, our normal – our healthy – has been associated with middle and upperclass, CIS, white men, with masculinity, which has led to the assumptions that the more masculine traits a person has, the more mentally healthy they are. 
  This can be harmful because it can lead to issues like incorrect classifications. Until 1973, homosexuality was considered a mental illness, and until 1987 there were still other forms of homosexuality labeled the same way.
  "It's different from the norm, but that doesn't make it wrong," Moran said.
  The way that people think about mental illness and mental health is affected by societal norms. The majority of mental illnesses have been considered feminine. According to the Minority Stress Model, living in a society that doesn't privilege a person affects their mental health.
  "We know that minority stress results from living in an oppressive system," Moran said. "There's a daily toll living in minorities."
  One way to try to increase wellbeing and mental health is self-care, but Moran explains it's important to challenge the rhetoric of self-indulgence. Self-care is not just women in bubble baths drinking a bottle of wine.
  Self-care concepts were deeply embedded in the Black Power movement in the 1960s and 70s and the Women's Movement. It was a message saying, "we are going to thrive, survive and still be here," while addressing the failures of the white patriarchy for women.
  Moran quoted Audre Lorde, "Caring for myself is not self-indulgence. It is self preservation, and that is an act of political warfare."
  "Living, surviving, and thriving as much as possible in the midst of scrutiny, oppression and violence is a radical act," Moran said.
  During the second session of presentations, Robynn Kuhlmann spoke on Women and Politics and how they are currently thriving. She is an associate professor of political science at UCM, and her primary fields of expertise are state politics, political parties, and voting and elections. 
  Currently, the United States congress is 27% female, the highest it's ever been.
  Additional strides in politics have been made by the LGBTQ+ community. The year 2020 was considered a "rainbow wave" with over 1,000 LGTBQ+ candidates who ran for office, and eight transgender individuals were elected to state legislature. 
  "All women and the LGBT community can have a seat at the table," Kuhlmann said.
  However, there are multiple factors that are unique to the U.S. political system that create a scarcity of women in politics. It's historical; women weren't included in the constitution. The U.S. has an old democracy and an old political system. It's psychological; "likeability" and stereotypes can make it more difficult for women to get involved in politics. Traits associated with politics are stereotypically masculine, like competitiveness and assertiveness. It's also institutional; there are quotas and party leadership don't usually consider women.
  Despite challenges, there are more women in politics every year.
  "I'm incredibly excited for the future of women in politics," Kuhlmann said.
  A focus of the summit was the future of women and the accomplishments they'll have. 
  The third session of the day included presentations from Sarah Ray Rondot, director of women, gender, and sexuality studies at UCM, about gender and UCM Alumna Adriana Vivas, founder of PULSE-W, about women and the media. 
  The day ended with poetry from senior communication studies major Brittané Curry and motivational speaker and poet Victoria Angelique.
  Curry delivered a poem about 10 things she wants to teach her little sister about being a woman. She included advice like tip 4: "Don't worry yourself so much you forget to live," tip 7: "Learn to ask for help" and tip 9: "Your body is the house you grew up in, how dare you try to burn it down." Each tip Curry read touched on the struggles women deal with every day.
  Angelique delivered poetry inspired by true events where her 12 year-old niece had to go to court to tell the story of how she was sexually assaulted by a 21 year-old man. 
  Angelique said it's necessary that women honor and support women, but they need support from everybody.
  "It's hard being a woman right now, it has always been," Angelique said. "We have evolved so much, and there's so much to be appreciative and proud of, but we couldn't do it without our counterparts, without the men in our lives as well. We honor women and we respect and encourage power to our women and power to ourselves in this month, but let's not forget we need support from everyone to accomplish the common goal, the common goal of loving and caring and understanding one another."
About the Writer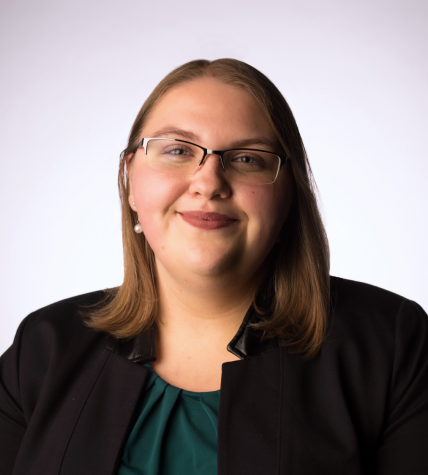 Bethany Spitzmiller, Managing Editor
Bethany Spitzmiller is a communication graduate student at the University of Central Missouri. She received her bachelor's degree in English and communication...