A Day in the Life with UCM Wrestler Emmett Kuntz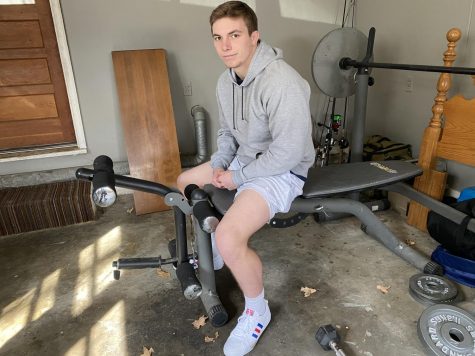 Wrestling is one of the most dangerous sports, and those who participate must prioritize taking care of themselves. A wrestler has to watch what they eat to stay within their weight limit, keep their strength up and engage in some mental self-care. When wrestlers step onto the mat, they have to be flexible and have the ability to pick up an opponent. In wrestling, athletes can develop injuries faster than in other sports because it is easy for them to break a bone if an athlete is positioned in the wrong way. 
  Senior wrestler Emmett Kuntz learned how to deal with being physically and mentally prepared for the challenges that he might face. He has been wrestling since he was in the sixth grade. 
  "I think that wrestling is the hardest sport because you play other sports, you don't play wrestling," Kuntz said. 
  Kuntz's mother, Kristina Kuntz, knew that he was passionate about wrestling by the time he hit high school, but he always liked it. 
  Kuntz comes from a big family. He is the eighth child out of ten children. Kristina said being from a big family, he learned to get along with a lot of different personality types. 
  "He is a big-hearted person, very respectful and a humble man," Kristina said. 
  When the pandemic began, Kuntz went home to be with his family in Bakersfield, California. Kuntz's younger brother, Lee Kuntz, would wrestle with him almost every day.
  "Emmett always wins because he is the older brother and a lot better," Lee said. "He does really good on the mat and has a calm mind. Even when he loses, he is pretty good at handling his emotions." 
  The reason Kuntz chose the University of Central Missouri was that he liked the campus and enjoyed talking to Head Coach Justin Ensign. He also wanted to try something new and didn't want to be in his hometown all the time. He said that in California, there were only three wrestling schools, and he wasn't satisfied with any of them. 
  "I think that it took a lot of ammunition to leave here, his family with the home he grew up in and took a lot of fortitude and self-assurance to do that," Kristina said. 
  During the season, Kuntz has a busy schedule. He has morning practices, classes during the day, practice again, then he works on homework at night.
  On a normal day, Kuntz gets up and has a big breakfast. He eats hash browns, eggs and sausage or bacon. Then he has classes from 11:00 a.m. to 2:00 p.m and goes to practice after. Kuntz fasts during lunch and has a decent meal for dinner. He has rice, fruits, vegetables and some sort of protein. After dinner, he works on homework and goes to bed at 11:00 p.m. During the day, he drinks water or Gatorade. 
  "It helps a lot that I live with other wrestlers, so we're never eating junk food," Kuntz said. 
  Freshman Bryce Farworski hangs out with Kuntz almost every day. The two of them like to play video games and board games and go for rides on their bikes, scooters or skateboards. 
  "He's fun to be around, outgoing and is a funny dude," Farworski said. "Whenever I don't have classes, we're hanging out, studying or lifting weights together."
  Kuntz's favorite workouts are the wrestling practices. He said that they're the most beneficial, and he likes being around the guys and wrestling with them. Out of practice, he works out with Farworski. They go on walks, do bench presses, squats, full-body workouts, pushups, situps and other workouts. Kuntz also does situps and pushups in his bedroom for quick workouts. 
  When Kuntz gets ready for a match, he warms up with a teammate and makes sure that he is within his weight limit. If not, then he continues to warm up or run around to get down to his weight. When Kristina watches her son wrestle, she said she prays he won't get seriously injured. 
  Wrestling is a close-contact sport with the competitors being on top of each other and being so close to each other's faces. Kuntz gets tested for COVID-19 every week and before the matches start. He said that he is not worried about catching COVID-19 because he is told that his opponents get tested too. 
  Toward the end of the season, Kuntz had a rib injury. Since it was before the last match of this season, he wrestled through the pain. The trainers helped him through his injury and prescribed him medicine. Kuntz said that he feels better now, but hurts when he sneezes.
  Graduate assistant for athletic training Christian Bedard helps wrestlers through injuries. One thing that Bedard finds interesting in wrestling is the injury timeout. He knows that in football, you have unlimited lime to evaluate the player and help or cart them off the field. With wrestling, he said that trainers are allotted a minute and a half to evaluate the person. If they need further evaluation after the time is done, then that player or the opponent is disqualified because it depends on how the injury happened. The first question Bedard would ask is 'are you ok'? Then the athlete would respond to what is hurting them.
  Bedard said the most common injury in wrestling is nose bleeds and that bleeding is more common in wrestling than any other sport. With nose bleeds, there is unlimited time to get it under control, Bedard said. He also said wrestling is different because it is an individual sport and overall wrestlers are on the mat alone. If they are hurt then it's on them to continue or stop competing.
  "I think probably the biggest part of the health and well-being of wrestling would either be diet or water intake because when you're reducing or restricting water in your diet to such a degree that you're losing 10-15 pounds in a season, that's pretty tough physically and mentally," Bedard said. "A lot of it comes from education, experience, diet education and weight cutting for the experience."
 Now that the season is over, Kuntz tries to find something to do during the time he is available. Kuntz said he gets bored quickly, and he is ready for next season. He has already set some goals, including having a perfect season.