Clothing Studio Helps Students Look Professional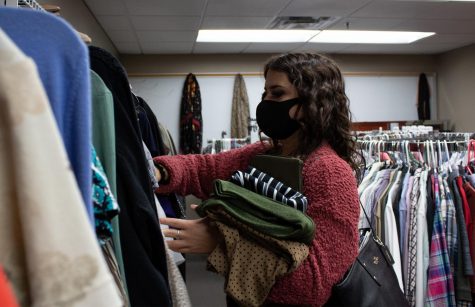 The University of Central Missouri offers a variety of resources to aid students in the transition from school to their careers. These resources include hands-on learning, resume assistance, mock interviews, career events and a newly-added Professional Clothing Studio. 
  The Professional Clothing Studio opened to students in January of 2021. Robin Terrell, who up until her retirement in fall of 2020 was a staff member at UCM, is the coordinator for the closet. 
  "The goal of the closet is to offer students a place to find professional wear for no cost, items they can wear for interviews, class presentations, internships  and networking," Terrell said. 
  Access to professional clothes can be stressful for students because of the cost and determining if the clothing is appropriate for specific occasions.  The clothing studio was started to help eliminate these challenges.
  "The closet is self-serve, but I ask every student if they need help when they come in," Terrell said. "Some of them need assistance with finding their size or other things. All I need then is their 700 number. Students are allowed up to four items each month." 
  The clothing studio has also allowed for Terrell to help students make connections with individuals in the Career Services Center for further assistance.
  "This has been a dream of ours for a long time, it was something our students wanted and needed, and to be able to fulfill that is a dream come true,"  Career Services Center Director Amber Goreham said.
  The Career Services Center is one of the many resources offered to UCM students. 
  "The studio is something that just fits in naturally with Career Services," Goreham said. "When you think about the process that students go through in career preparation, this is a big piece of it. The clothing studio has allowed us to connect with students who otherwise may have not reached out." 
  A variety of students from multiple majors have already visited the closet. Senior social work major Kami Guanella has visited the studio and is using it as a resource for veteran students.
  "I came in and got some clothes for me, and it's a really great resource for students," Guanella said. "How you represent yourself matters, and even when doing virtual presentations, because of the clothes I got from the closet, I looked professional." 
  Junior aviation major Hunter Kramer also shared the student benefits of the clothing studio. 
  "This is helpful for those in any major looking for a job with a high professional standard who will need a formal outfit whether it be for meetings, interviews and events," Kramer said. "So, it's a great way to save money for students because the clothing provided is from reliable businesses." 
  The Professional Clothing Studio is taking all precautions to ensure the safety of students regarding COVID-19. Currently, the space has an occupancy limit of three students and masks are required. Additionally, students are not allowed to try on clothes. Each piece of clothing is steamed and high contact areas are sanitized daily. Once things have left the studio, they are not allowed to be returned.
  The Professional Clothing Studio is open Monday through Thursday, 10:00 a.m. to 3:00 p.m. If students are not available during these times, appointments can be made with Robin Terrell. Fridays are designated for the closet to receive donations. In addition to clothing donations, the studio also takes monetary donations.