Jennies Lose Home Opener 5-4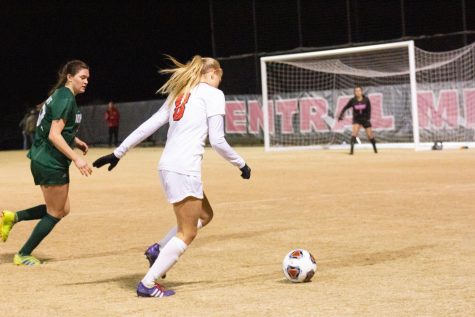 The University of Central Missouri Jennies (1-1) soccer team had their season home opener against the Northwest Missouri State Bearcats University (1-1) on March 5.
  The game was competitive to start. It wasn't neutral for too long as the Bearcats took a 2-0 lead within minutes. Sophomore forward Kaitlyn Case scored their first goal followed by another goal scored by freshman forward Sophie Cassie. 
  The Jennies responded with a goal of their own by freshman forward Caroline Cole, who was assisted on the play by junior forward Kassie Newsom. Sophomore defensive midfielder Shyanne Best tied the game before the half, with a minute left on the clock, making the score 2-2 at the break.
  After the half, the Jennies jumped out to a 4-2 lead. Cole found the back of the net again for her second goal, and freshman forward Sydney Leslie had two assists and was able to punch in her first goal of the game. 
  "We came out stronger and did a good job of possessing the ball in the second half," Cole said.
  The Jennies Head Coach Lewis Theobald tried coaching his team to finish the game, but the Bearcats made a comeback from 2-4. 
  "I like the fact we scored four goals. I felt like when we went down two to nothing and to be leading four to two is a really good sign of character that we were able to get back into it," Theobald said. "However, we just didn't manage the game very well."
  The Bearcats, trailing late in the game down 4-2, began to rally just as the Jennies began to give up pressure on the defensive side of the ball. Final score 5-4.
  The head coach said that the defense wasn't as determined as they could have been and needed to do a better job filling each role.
  "Ultimately that was the lesson to be learned, that we need to defend better and at four and two, we need to finish the game out," Theobald said.
  Redshirt junior center back Frankie Ross said the team looks forward to the rest of the season despite the loss.
   "One thing our team did well today was attacking the flanks and getting the ball behind the defenders," Ross said. "We are excited that we have an opportunity to win a trophy and win the championship with our MIAA tournament, so we have to get better and put this loss behind us and get ready to go." 
  Jennies had 11 shots on goal with 13 saves by redshirt freshman goalkeeper Hanna Groh and UCM defense. The Bearcats had 13 shots on goal and were saved by the goalkeepers, sophomore Grace Goetsch and junior Alexis Serna Castillo.