Jennies Soccer Kicks Off Their Season
  The University of Central Missouri Jennies soccer team is looking forward to their season. The team has won two games and lost one.
  "It's definitely been hard since we've had such a long period of time since we played, so I feel like the mentality has to be really strong. And we have to keep pushing each other every day to be where we are now," sophomore midfielder Nayeli Gallo said. 
  The team started practicing and getting into the weight room in the fall of 2020. The weight room is optional for the athletes as it is hard to get in because many different athletic teams use it.
  "We usually keep our mask on to stay safe and make sure that we are protected from being in there since there are lots of people going [in] and out of the weight room," Gallo said. 
  This season the team will get to play 10 games in the conference, a miniature tournament from the top two teams of each division and go to the semi-finals. 
  "We can't complain because we're happy that we get an opportunity to play," Head Coach Lewis Theobald said. 
  Since soccer is an outside sport, there is less risk of getting COVID-19. 
  "We're all always worried about it so we're just trying to take the best measures we can and try to be as safe as we can," Theobald said.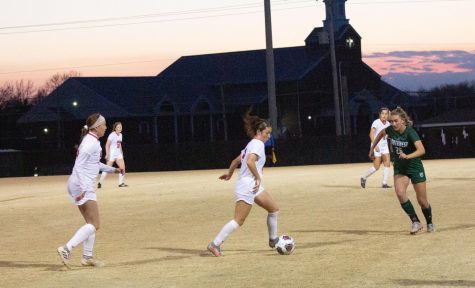 During the pandemic, Theobald said he stayed home and exercised some. He has been trying to do what the Centers for Disease Control and Prevention recommends and is trying to isolate himself and the group as best as they can. 
  The soccer team has not had a COVID-19 outbreak. 
  However, junior right forward Kassie Newsom got COVID-19 in October. She said that she had to do more work to get back to the team because of the setback. The Jennies have been preparing for their season and making sure that they stay safe. 
  "I think that we all stayed together and worked really well as a unit to make sure that it doesn't affect the way we play," Newsom said. 
  Newsom said they definitely encourage each other to keep going and the coaches have high standards for them just like any other year.
Leave a Comment
About the Contributor
Meah Copeland, Sports Editor
Meah Copeland is a senior Digital Media Production Major. Her emphasis is in Digital Journalism and Sports Reporting and Broadcast. Meah started writing...