Ichabods Break Jennies Six-Game Win Streak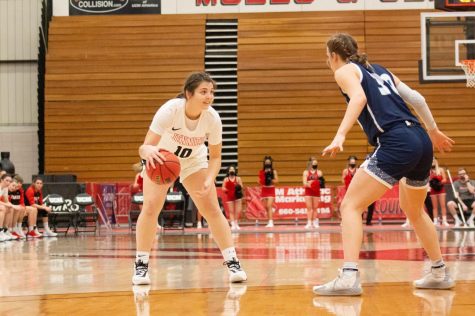 For the third time this season, the University of Central Missouri Jennies (19-4) and the Washburn Ichabods (12-11) played against each other. This time the Ichabods beat the Jennies 63-55. 
  The Ichabods were ranked No. 7, and Jennies were No. 2, in the MIAA. The game was tight throughout the whole game. The Ichabods were throwing many three-pointers and Jennies could not keep up. The Jennies forced 18 turnovers on the Ichabods but also had 15 turnovers themselves. 
  Toward the end of the game, the Jennies had a chance to get the lead. The score was 57-51 with the Ichabods in the lead. There was one minute left to play. The Jennies fouled on the Ichabods, which made them score more points. Then, in the last seconds of the game, UCM freshman guard Olivia Nelson had the ball. Nelson got to the three-pointer line, but then the ball got stolen by the Ichabods and the Jennies fouled. The Ichabods had a chance to make points on the board and the Jennies didn't recover after that. 
  The Jennies finished the game making 29.1 percent from the floor, 23.8 percent from the three-pointer and 72 percent on free throws. Freshman guard Brooke Littrell had her third-straight double-double game with 15 points and 10 rebounds. Littrell  collected her sixth double-double game of the season. Senior guard Nija Collier scored 15 points and six turnovers. Nelson scored six points and led the team on high of five assists. 
  The Jennies scored their season low of 55 points, and this field-goal percentage was the first time they shot below 30 percent this season. Senior guard Morgan VanHyfte scored her 400th career point, and Collier is tied for seventh of all-time in blocked shots with 91. The loss will affect the Jennies on who will be the new MIAA Tournament champion. Since the No. 7, seed beat the No. 2, seed, it changes the seed positions which means Jennies will be ranked lower.
  Senior guard Hunter Bentley led the Ichabods with 19 points, seven rebounds and seven rebounds. Their senior guard Adyson Narber led with four assists. The Ichabods finished shooting 42.3 percent from the floor, 34.8 percent on three-pointers and 78.6 percent on free throws.
  The Jennies will have to wait until Sunday to see if the NCAA selection will determine if they are in or out of the six-team NCAA Regional Tournament. UCM will host the regionals whether the Jennies are in or out.  
  "We're all a little stunned right now, but it's unfortunate because apparently we didn't want to go to Hays America. That's too bad …" head coach Dave Slifer said. "You pick some pieces up, learn some lessons, hopefully there will be another day, and I believe there will be."