Senior Trumpet Composes Music for Campus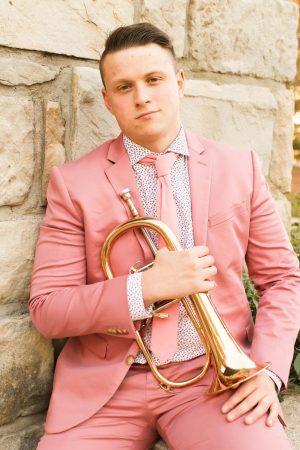 Fifth year senior Kevin Wanner, a dual major in trumpet performance and jazz commercial music, is known for always being a team player and being passionate about composing music.
  Wanner started his journey in music when he was 9-years-old. As a child, he struggled to stay focused because of ADHD except when he played video games and then later by joining the band in middle school. 
  "Music has always been something that, no matter what, I could always just dig in and focus," Wanner said. 
  When he was younger, he began composing music on MuseScore as a way to play around and learn software on his own. Wanner has been composing for 10 years, but has been more dedicated to the craft during the last five years
  Along with learning on his own, Wanner developed his composing skills further when he started attending The University of Central Missouri and working with David Aaberg, director of the jazz commercial music program and a fellow trumpet player. 
  "Being able to work with a professor, that one on one, like I can with Aaberg has been crucial to my development as a composer," Wanner said. 
  Aaberg has been Wanner's jazz band director for the last five years and spoke about how talented of a musician Wanner is.
  "He is a really talented trumpet player. So, there are a lot of things he does naturally, much more naturally than I do, and so he already came in with a lot of innate ability there," Aaberg said. "But as far as what has happened within producing music, writing, creating, all of that, there's been a lot of work and that has just really grown tremendously in the last year."
  Wanner has been involved with multiple groups on campus including Big Band, Jazz Ensemble and Pit Orchestra. In the 2020 fall semester, he composed the music for Kristiana Rae Colon's play Tilikum, which the UCM theatre and drama department produced.
  "I put about 700 hours of work in about a month or little over a month and a lot of all-nighters for that, but a lot of the experience was working with our director Dréa Lewis," Wanner said . 
  Wanner approached Julie Mollenkamp, professor of theatre and the artistic director for Tilikum, after the theatre department reached out to the music department. 
  "He got the script and read the script and then he just started sending ideas and thoughts and beautiful clips of very haunting music for different moments," Mollenkamp said. "He was really savvy in working in electronic music."  
  While continuing his love for music at UCM, Wanner is also serving in the Army Reserves as a radio operator. He is following in his parents' footsteps, as his father served 20 years in the Army and his mother served four years in the Coast Guard.
  "After graduation, I plan to take a year off because my contract ends in '22, and I'm really considering joining a military band," Wanner said. "It may not be the army. I'm looking at groups like the air force band, navy band and army bands."
  After his year off, Wanner plans to pursue a master's degree in film scoring and looking into an emphasis in video game composition. 
About the Contributor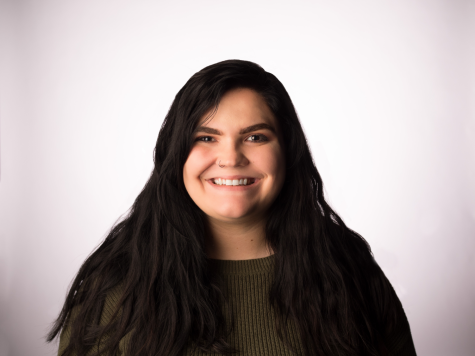 Skye Melcher, Features Editor
Skye Melcher has been working for the Muleskinner for two years. She writes, edits and distributes for the newspaper. Her background in digital media production...