Marching Mules Stomp COVID-19
Written by Zayin Barnes, Reporter
October 7, 2020
  The Marching Mules and Jennies have been implementing new precautions and procedures to keep themselves and others healthy. From temperature checks to instrument bags, the band looks safer than ever. 
  At the East Ellis Field, where band practices are held, members get their temperatures checked before practice and keep a safe distance of six feet while rehearsing. In addition to these precautions, there are differences in the instruments and the way students must play them, specifically, a variation of coverings. 
  During a virtual interview with Julia Baumanis, UCM director of athletic bands, she said the band is using face masks with an opening for an instrument mouthpiece. 
   "A trumpet could put the mouthpiece through, and they could still play." Baumanis said.  "But what is being covered is their nose, and their mouth is being covered because their mouth isn't emitting any more aerosols other than going into the instrument." 
  Since the Center for Disease Control and Prevention had shown the importance of masks to prevent transmitting aerosols from one person to another, one of the questions Baumanis focused on was whether or not musical instruments create more aerosols. She said a study was done by Colorado State University that found wind instruments, such as clarinets and trumpets, produce aerosols that need to be contained and combatted. 
  Each brass and wind member of the band uses an instrument bag to cover their instrument and reduce the amount of aerosols released from it. An instrument bag is a plastic bag that covers the entirety of the instrument except for the very front where the bell covering is placed. 
  "It's essentially a mask for your instrument," Baumanis said.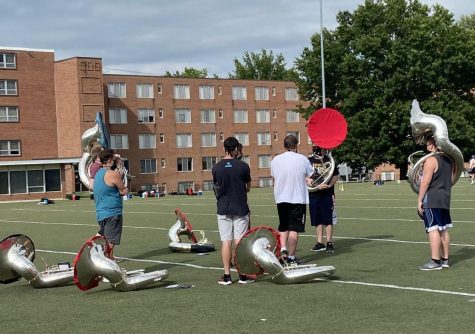 The bell coverings look exactly like big facemasks without the straps around the ears. It is a round piece of fabric that covers the bell of the instrument. 
   "The bell coverings aren't difficult to play with, they just cover the end of the instruments." Junior Jordan White, an instrumental music education major, said. "They don't really affect anything on the instrument except a slight change in volume."
  "Because it is stretched at the very opening of the bell and not so much inside the instrument, it doesn't muffle the sound at all." Baumanis said.
  One struggle with the instrument bags, however, is that if a band member plays an instrument like the clarinet, they have to take their hand out of the bag to turn a page and then quickly reach back inside the bag to hit the next note. 
  "There are some things that are still clunky … but that's okay if we just take a little bit of time and make everybody safe," Baumanis said. 
Along with these instrument precautions, the band can play outside, which works in their favor. 
  Junior Allison Quick, an instrumental music education major, said "I was surprised that we got to do marching band at all, though I'm really thankful that we are still able to do it." 
About the Writer
Zayin Barnes, Reporter
Zayin Barnes has been a sports writer for the Muleskinner since fall of 2020. His major is digital media production with a minor in communication studies.