Hidden Gems of Warrensburg: Cave Hollow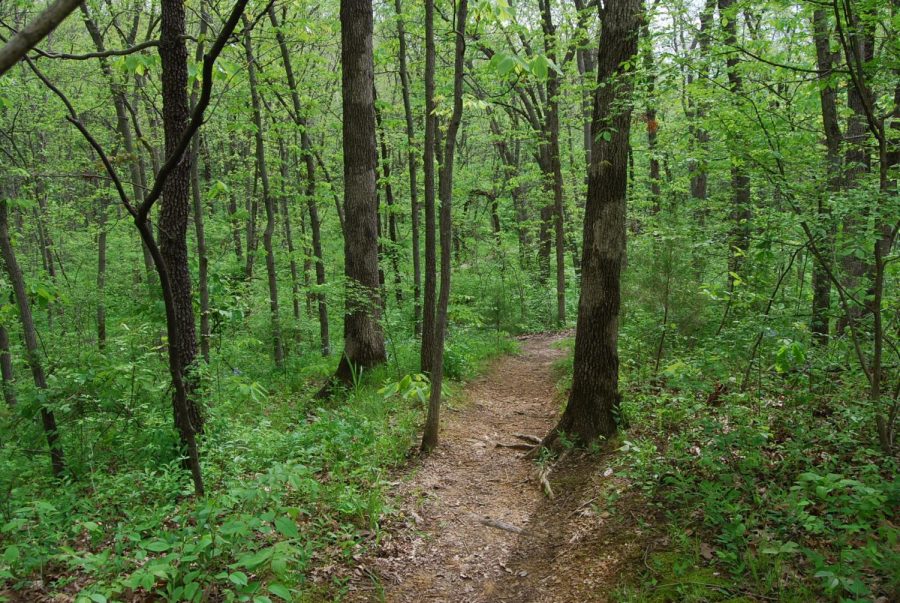 Written by Skye Melcher, Features Editor
October 4, 2020
 Sunlight streams through the foliage and greenery along a path that leads to a cliff with a carved face, this place is called Cave Hollow.
  Cave Hollow is a place for University of Central Missouri students and local families to escape to. It is located at 1001 W. Gay St. and features, softball and baseball fields, hiking trails a dog park and an inclusive playground. It 
   "I enjoy the nature trails and the heritage of it," UCM alumna Rachel Marcak said "I discovered it when I took my dog to the dog park and noticed the hiking trails."
  When arriving, the soft blue mat under the bright blue and green playground is visible while at the back of the park is the beginning of a half-mile walking trail surrounded by trees and shrubbery that leads to a cliff with a carved face enjoyed by students past and present.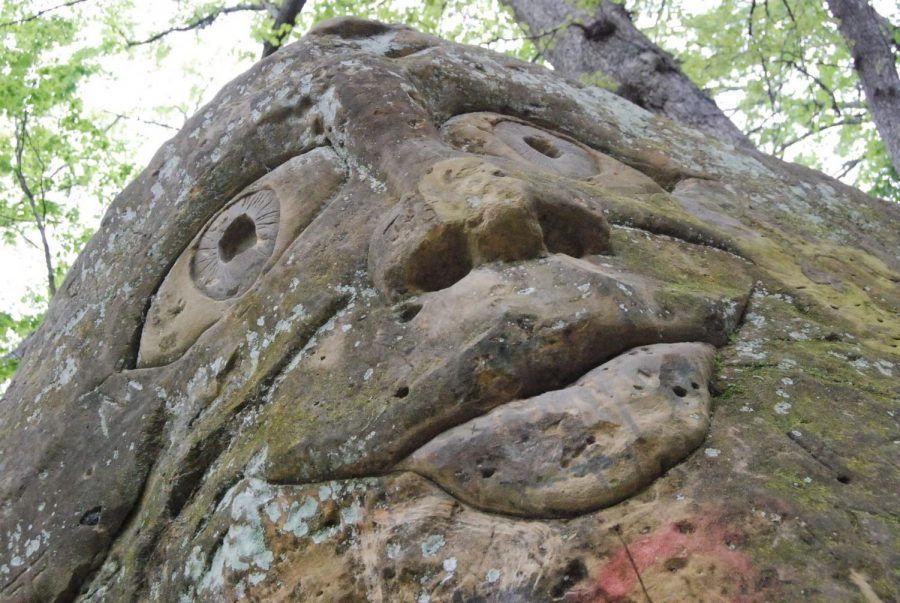 "Freshman should go to Cave Hollow to see the different faces in the rocks and the nature trails." Marcak said. 
  Students have been going to Cave Hollow to destress for decades, even before the university was called UCM.
  Alumna Morgan Demoss said"I love Cave Hollow because it was a nature escape at college when I needed to relieve my stress. I discovered it through my mom who is a CMSU alum, and she showed me before I started at UCM."
  Morgan's mom isn't the only mother sharing the park with her child. Many local families visit cave hollow to enjoy…. the features of the park, especially: the inclusive playground, which is a space where children of all abilities and ages can play with sensory panels, active play panels and a sensory arch with adaptive switch technology. Along with these, the playground offers swings where mothers and babies can swing together.
  Babylou Collins, a local mother of two, said she brings her children to the park at least once or twice a week.
  "I just like how it has the peaceful little trail in the back but I like it even more since they put the park out here, especially since they have the duo baby swings and stuff like that," Collins said. "The turf is just cleaner and safer."
  Krystal Petsch said she brings her children to Cave Hollow about once or twice a week. "We just really love this park," Petsch said. "We love the mat on the park. I like that it's not mulch. So, they don't get it in their shoes, and I love how easy it is to get on and off things. And I love the mommy and baby swings. We pretty much just love everything about it."
  Cave Hollow is a hidden gem of Warrensburg, but to those who have found it, they know how amazing it is.
About the Contributors
Skye Melcher, Features Editor
Skye Melcher has been working for the Muleskinner for two years. She writes, edits and distributes for the newspaper. Her background in digital media production...