Mule Senior Spotlight: Zach Davidson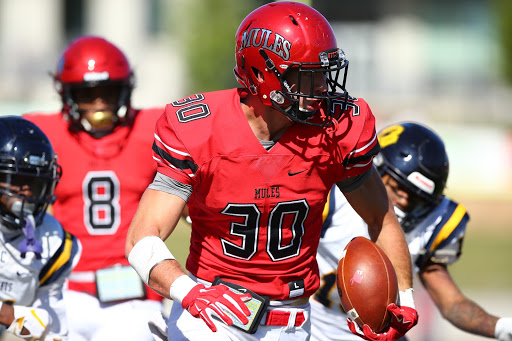 Zach Davidson is a senior athlete who will be graduating in December 2020. He has been playing football his whole life. Over the years, he has developed his skills and improved each season. Davidson is majoring in Sport Management because he has a passion for sports and wants to be a part of sharing it with future generations. In his free time, he loves being outdoors with his girlfriend and dog and playing video games.
Davidson started playing for the Mules football team in 2017 as a redshirt freshman. He set a new team record averaging 44 yards per punt, kicked 47 times and totaled 2,082 yards. His longest kick was 66 yards against Fort Hays State. At the end of his freshman season, he was selected as a Don Hanson Third Team All-American and was a Second Team All MIAA selection. In 2018, he improved his punting skills and began his tight end position journey. He caught 11 passes for 239 yards with an average of 21 yards per catch. He was nominated for D2CCA Second Team All-Region and All-MIAA Honorable Mention.
Last season, he was one of the best tight ends in Division II football and earned five First All-American awards. He finished in the NCAA top-10, receiving touchdowns and yards per reception. He set many Mules football records in punting and receiving. He had the most yards in a single game by a tight end in Mules' history. He continued to be a top punter in the NCAA. He earned AFCA First-Team All-American, AP First Team All-American, D2CCA First-Team All-American, and All-MIAA First-Team. He is a tremendous athlete who continues to improve each year.
His favorite moment in his career was last year against Fort Hays State in 2019. It was the last five minutes of the game when the Mules were down against the Tigers. Being a part of the comeback win was special, but the way the team answered the call will forever give him chills.
A couple of weeks ago, the MIAA CEO council announced that they are postponing the fall season to Jan. 1, 2021. When Davidson first saw the news, he was devasted.
However, looking on the bright side, Davidson said, "it gave us more time to allow our team to develop, especially with a new offensive coordinator on staff." Over the years, Zach has built lasting relationships with most of his teammates and coaches.
He said, "We operate as a family, being there for each other day in and day out." With the fall season gone, Davidson will miss practice and simply being with the guys every day. There could potentially not be a season at all. If that happens, Davidson said he plans to stay in shape and improve his game in whatever ways possible. He said he wants to get a chance to go to the NFL.
"We're only capable of playing the sport of football for a limited time in our lives, and I want to make my time last as long as possible," Davidson said.
After graduation, Davidson plans on pursuing playing football professionally. After his career as an athlete is finished, he would like to find an athletic coordinator position.
About the Contributor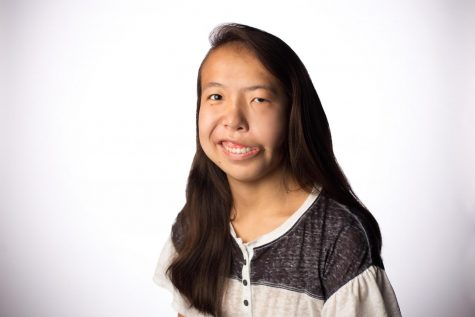 Meah Copeland, Reporter
Meah Copeland is a reporter for the Muleskinner Newspaper. Her major is Digital Media Production with an emphasis in Sports Reporting and Broadcast. Meah...