UCM Athletics Profile: MaKayla Toth
Written by Nic Thomas, Reporter
September 5, 2020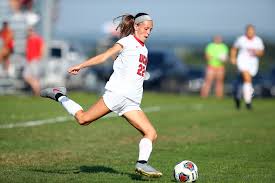 MaKayla Toth is one of the most successful soccer players in the history of the University of Central Missouri.
Toth is in her fourth year at UCM. She said she credits the atmosphere of the university as to why she chose to become part of the Jennies.
"When I got here for my visit, I fell in love," Toth said, "The atmosphere, to me, just felt like home."
Since coming to UCM, Toth has started every game. She has also racked up some accolades and said she had made some great memories while representing UCM. This includes being awarded First-Team All MIAA, Second-Team United Soccer Coaches All-American, First-Team United Soccer Coaches All-Region, First-Team D2CCA-All Central Region and being one of the key contributors to the 2017 Jennies National Championship Team, which is one of the highlights of her career.
"My best memory of playing for the Jennies would probably have to be winning the National Championship my freshman year," Toth said. "Getting to play in front of so many people and repping UCM was such a surreal feeling." Just like many other fall college athletes around the country, Toth was upset to have her fall season taken away.
She said, "When the MIAA cancelled fall sports, I felt like a piece of me had been ripped out. Nobody wants to see their senior season ripped away from them like that."
With the cancellation, many college athletes are figuring out what to do with their spare time. Whenever she's not on the field, Toth enjoys running and, of course, playing soccer.
"Running helps me take a load off. When I am feeling stressed or overwhelmed, running will always help take my mind off of things for a while," Toth said. "Soccer kind of gives me a home away from home. When I am on the soccer field, it feels like there are no worries in the world. Just me and the game I love" She also credits her family for making her the person that she is today.
She said, "Without them, I would not be who I am today. They have driven many miles for me to play the game that I love. My family and my dogs are my world."
When her UCM journey comes to an end, Toth plans to continue her education closer to her hometown of Wichita, Kansas. She plans on applying to Wichita State University and joining the physical therapy program.