Faces of UCM (Spring 2020-Episode 2): Greg Hassler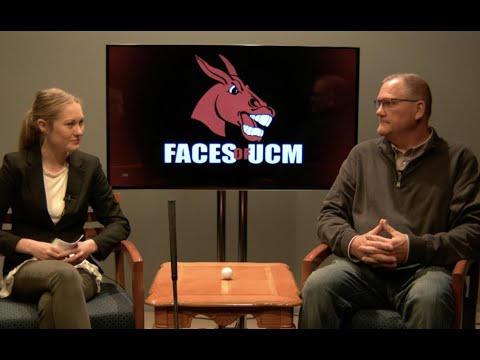 Many listen to his voice on the radio, but not many know the face behind the calls. University of Central Missouri athletics play-by-play announcer Greg Hassler is this week's special guest on Faces of UCM.
"I wasn't very good," Greg Hassler jokingly says. Hassler's high school and college days of swinging the club may not have looked so good on paper, but his days of mediocre playing ended there.
Hassler eventually became a "pro" at the Warrensburg Country Club. This form of pro is not a PGA, nationally ranked, paid player.  A pro at a golf course is an avid golfer that knows more than the game, in addition to hitting the ball pretty far. 
"When you become a PGA club pro you have to know the business side of things, and how to run a pro-shop," Hassler says.  "You also have to go to a business school and pass a few classes." Even though it took him a few years to gain that position, "I really enjoyed that time of my life," Greg says. 
The cherry on top is that Hassler can boast that he's won a few golf tournaments during that time period. 
Whether it's hearing him on the radio or seeing him on the golf course, Greg Hassler is a man leaving his mark in Warrensburg.