UCM Theatre and Dance presents "The Gift of the Magi"
The University of Central Missouri is presenting a holiday production, "Gift of the Magi," at the Highlander Theater this week. 
The production runs Thursday- Sunday, starting at 7:30 p.m. Thursday and Friday, 2 p.m. and 7:30 p.m. Saturday, and 2 p.m. Sunday. Tickets start at $10 for students, $15 for senior/staff/military, and $20 for the general public. 
According to playscripts.com, "The Gift of the Magi" is a romantic comedy adapted by Jon Jory that tells the story of two poor lovers who try to buy each other proper gifts for Christmas. The story is narrated by a group of carolers and is based off of the short story by O. Henry.
Julie Mollenkamp, professor of theater and dance and director of the production, said audiences and students have been requesting a holiday production.
"Traditionally you'd see The Christmas Carol, A Christmas Story, or a variety of popular pieces and I stumbled across Jon Jory's new adaptation of The Gift of the Magi," she said. "This play riffs on looking at the idea of what it means to be in love and to use love as the basis of giving a gift."
Mollenkamp said rehearsals started Oct. 28. and have been a fun experience, though they've only had four weeks to put the show together.
"It's been just a joyous ride," she said. "People are very excited and very focused and they work really hard to get the work done."
Mollenkamp has been teaching at UCM since 2001 and said she has directed around 40 different UCM productions. She said every production is different because it is a different set of students, but this specific team has had more challenging elements due to the narrative aspect of the show.
"This was a totally motivated student team so that's been thrilling to do," she said.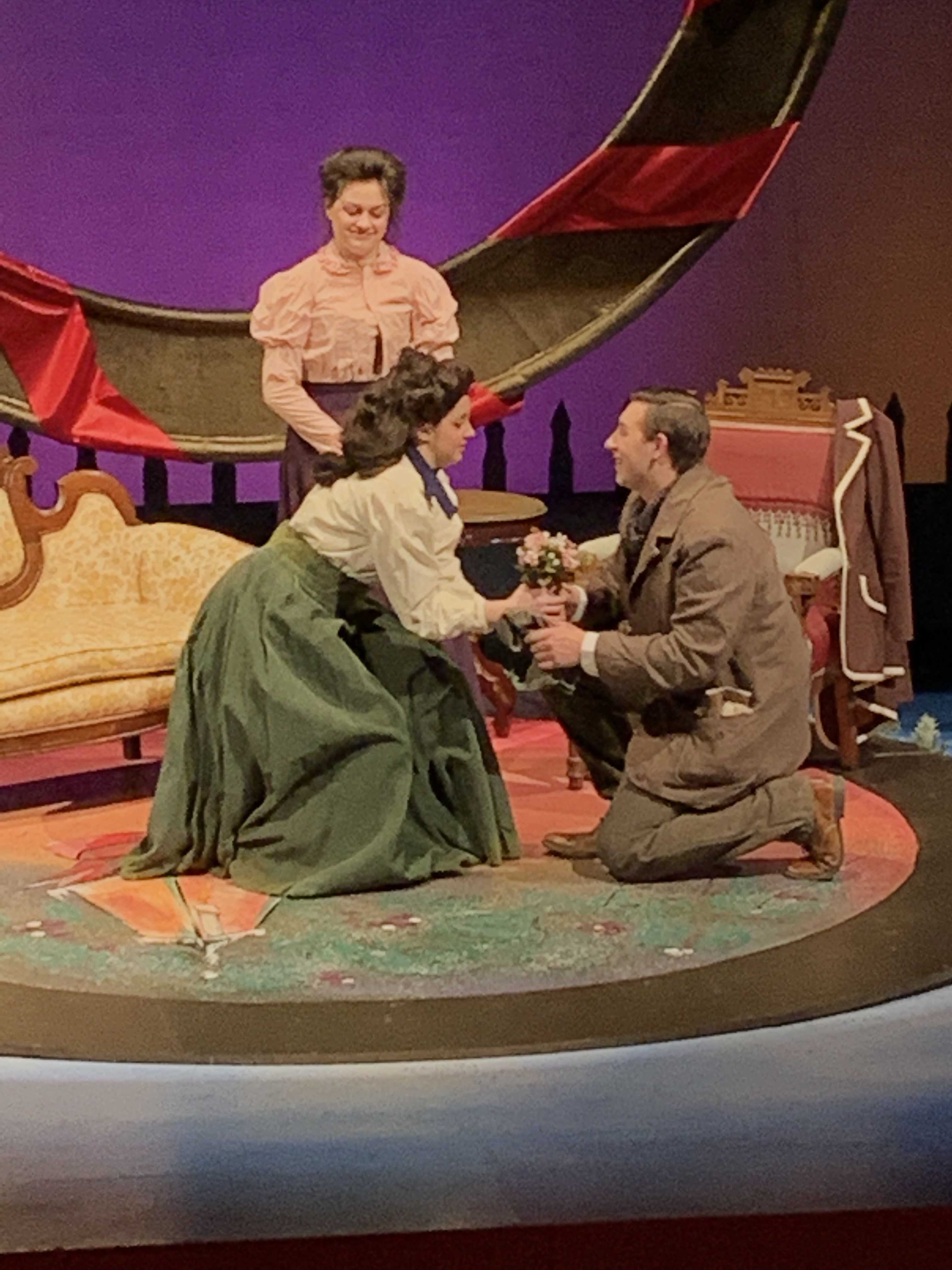 Kelsi Richardson, sophomore theatre major, is playing the role of Della Worthington and said she has been in more productions than she can count.
"I was interested in auditioning for this production because I am such a sucker for a good romantic comedy," Richardson said. 
Richardson said she was blown away when she was cast as Della Worthington, the lead character.
"I never would have thought I would be playing Della, the leading character of a main stage production," she said. "It has been such a wonderful gift. It has been incredibly fun. I have learned so much, and I have many beautiful relationships because of it," she said.
Richardson said the advice she has for students interested in theater is to just do it.
"There is an endless number of ways to be involved in theater and an endless number of talents needed," she said. "Whether you want to pursue a career or just do it for fun on the side, it doesn't matter. You've just got to do it and you won't regret that you did."
Mollenkamp said one of the biggest challenges was incorporating 14 Christmas carols into the production. She said developing characters for the chorus and determining which carols were appropriate for that time period added to the challenge. 
Mollenkamp said her favorite memory of the production was all the laughs the cast and crew had together.
"We laughed every single night," she said. "It was laughter that was motivated by the text. It was laughter motivated by the work. It was laughter getting to know each other. That is what I'm going to remember."
When it comes to future productions, Mollenkamp said she wants her students to remember they are putting on a play so it should be serious but they should have fun with it.
"We started off saying this was going to be a process of kindness and joy and it has been one," she said. "I'm really proud of the students and team for that."