Phi Sigma Pi to Host Benefit Concert
Phi Sigma Pi fraternity is hosting a benefit show Nov. 18. at 6 p.m. in Union 240 in support of the Royal Family Kids Camp. 
The Royal Family Kids Camp is a camp for abused and neglected children in the foster care system. The camp is one week in June, and kids get a memory book to take home and items they don't usually have, like a blanket and a pillow case. 
Haley Justus, junior digital media production major and member of Phi Sigma Pi, said she pitched the idea last semester and really wanted to help the camp.
"The kids learn to trust and they learn what emotional connection is," Justus said. "They learn things they don't get to learn otherwise and things that are vital for them such as the emotional connection and what it's like to be cared for and loved."
Phi Sigma Pi has sponsored several events but this is the first time they've hosted a benefit.
"We don't do anything that gets a lot of UCM or community people involved service wise, so I thought that I could give back to Royal Family Kids Camp while not only growing my fraternity's name but branching out and thinking bigger," Justus said. 
Taylor Broleman, senior social studies education major, will be performing a color guard/dance routine for the benefit show. Broleman said she has been performing color guard since she was in middle school and believed this cause was something she wanted to support.
"I was always raised that if I could ever give in any capacity that I should try to, and this is one of those ways that I could help give back," she said.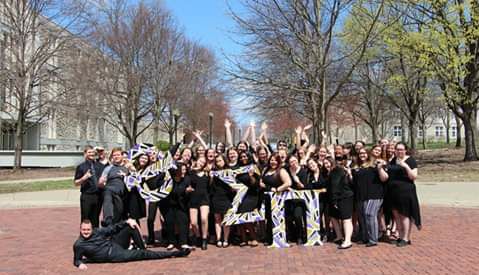 Danielle Friedmeyer, junior digital media production major, will be performing a poem out of her poetry book "PostMortem Boredom" titled "Shooting Star." The poetry book will be released on the 18th.
"I always wanted to do two things in my life: entertain and help people, and with the concert I get to do both," she said.
Friedmeyer said the most challenging part about her act is how personal the poem is for her.
"I think it's challenging to be vulnerable in front of an audience and put yourself and your work out there," she said. 
Justus said the biggest challenge with organizing the benefit was finding people to participate.
"We weren't sure who to reach out to and the people who we thought reaching out to would be easiest was not," she said. "I went off who I knew or who would know other people that would want to do it."
Justus said she is most excited to get the word out to the public about the camp.
"It's not something a lot of people know about and it takes a lot to get into, but once you do, it's very worth the while," she said.
Patrons are asked for a $2 minimum donation, but there will be other opportunities for people to donate to the Royal Family Kids Camp throughout the show.
"Now is the time to have some giving spirit and it's a great way to support and see the talent the community has," Broleman said. "It won't mean much for somebody coming, but it would mean the world to the kids."