Elliott Student Union set to open next week, Union Bowling Center to follow
While students left for the summer, construction crews kept busy working on the Elliott Student Union.
The project, which began last October, will add an auditorium and revamp the Union's south entrance and the Union Bowling Center. Kim Nicas, director of the Union, said the south entrance is expected to reopen around Oct. 4 and she is hopeful the bowling center will reopen in mid-October. She said the project has remained under its $7 million budget.
U.S. Bank, the Campus Card Center and the Office of Student Activities have remained open and accessible via a temporary hallway.
The south hallway is being renovated to better separate the bowling center, include digital signage and an interactive wayfinding system, and have a more modern appearance, while the entrance itself is more wheelchair accessible.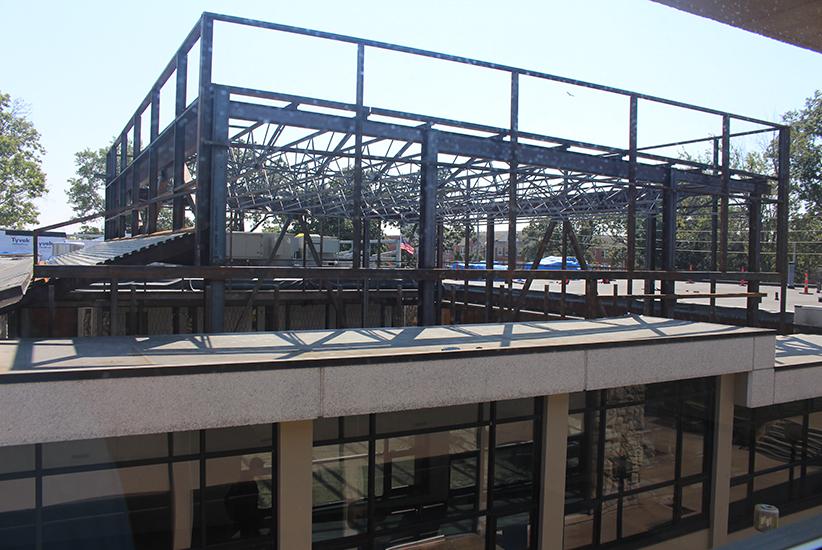 The new auditorium, which features nearly 300 retractable seats, is anticipated to be completed sometime during the spring 2020 semester. It was originally expected to be completed in November.
Nicas said the bowling center will get new furniture that coordinates with the new UCM-themed entrance. The changes made to the bowling center are being funded by the bowling center revenue.
"We have a lot of work to do (on the bowling center) because of construction," she said. "There's a lot of dust and dirt that we're going to have to work a lot on our lanes and our pins and setters. A lot of cleaning and moving."
Christina Kerns, assistant director of Student Activities, is excited for the project, despite their office being affected by the construction.
"By and large, I think that being able to see what it's going to look like and what it's going to offer for our students keeps me excited about it and right now it's more of an inconvenience than a barrier of any sort," Kerns said. "We'll work through it."
Nicas said minor changes have been made, such as adding electrical circuits to provide power to digital signage. She said no major delays were encountered except for weather; she estimated there have been approximately 60 weather-delay days.
Steak 'n Shake will not be returning to the Union. Nicas said Sodexo is looking for a replacement.
In addition to the renovations, the fountain is being cleaned and repainted and Jazzman's was replaced with We Proudly Serve Starbucks.
"We're just excited for it to get completed so students and the community can start utilizing it," Nicas said. "It's going to be a really neat space. I know it's taking a little bit longer than everybody anticipated, but I think the wait will be worth it."