UCM recognizes veterans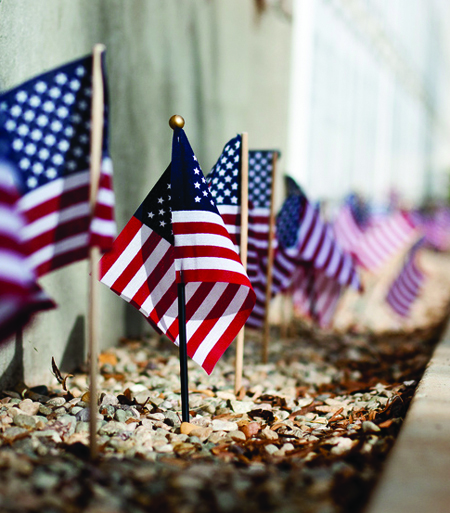 Story by ANDREA LOPEZ, for The Muleskinner—
People across the country celebrated Veteran's Day in honor of those who have served in the military.
As a university, UCM sponsored several events to show that gratitude for our veterans on campus.
Miniature American flags blew in the wind, framing the sidewalks throughout campus.
In addition, signs were scattered around school grounds to acknowledge the appreciation for veteran's ongoing service to this country.
"I am a veteran" buttons were handed out and UCM veterans were encouraged to proudly wear them in honor of their service.
On Friday, Nov. 9, in respect of Veteran's Day and in support of Hurricane Sandy victims, there was a Military Appreciation Blood Drive.
Surpassing the American Red Cross's goal of 77 pints of blood, the event was a success.
"We very much appreciated all individuals who came out in support of the occasion," said Delilah Nichols, coordinator for UCM Military and Veteran Services.
Despite the frigid fall temperatures, an attentive crowd gathered Monday morning in honor of UCM veterans.
The public was invited to attend a Veteran's Day ceremony to dedicate a flag and flagpole erected in front of the Audrey J. Walton Clubhouse at UCM's Keth Memorial Golf Course in Pertle Springs.
According to Mary Lee Gutherie, gift officer for the Smiser Alumni Center, there were about 20 individuals who donated money, labor and materials to make the project possible.
Jenne Vanderbout, assistant vice president of the UCM Foundation, welcomed individuals in attendance and provided brief information as to how the flagpole came into existence.
Vanderbout then introduced Charles Lynn Lowder, director of UCM Military and Veteran Services, who gave remarks regarding the importance of remembering those who have served and those who continue to serve the country.
Lowder continued by reflecting on his personal thoughts mentioning how the American flag represents the many hundreds of thousands of soldiers, "who gave the ultimate sacrifice of their lives while serving our country and providing our safety."
These soldiers represent mothers, fathers, sons, daughters, grandchildren, aunts, uncles, cousins, children and friends.
Monday afternoon, the UCM Student Government Association and Psi Chi, the psychology honor society, provided coffee cake and deli sandwiches for the student veterans in appreciation for their service.
"Their action sets a great example of students supporting students," Nichols said.
Beyond the blood drive and flagpole ceremony, an additional gathering was put on to recognize UCM Faculty-Staff Veterans.
"It is important that the University recognize and express its appreciation to our military service members, veterans and military dependents, consisting of both employees and students, to show its support and gratitude of sacrifices made for our freedom as a nation," Nichols said.
In doing so, UCM faculty and staff veterans were invited to the Military and Veterans Success Center Monday afternoon to reminisce on the times they served, while enjoying cake and punch.
President Ambrose said a few words thanking the Veterans for their dedication to serving the U.S.
"Recognizing individuals who have served in the military should go beyond Veteran's Day; it should be for all of the 365 days in the year", President Ambrose said.
The Military and Veterans Success Center plans to continue recognizing UCM military veteran employees throughout the year during appropriate events such as the Memorial Day, 9/11, and Veterans Day ceremonies.
"It is important that we never forget the sacrifices our service members and their families make for our freedom," Nichols said.