Church creates student coffee house, haven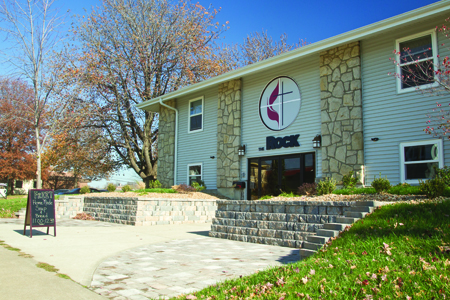 Story by ELLEN BECKER, Managing Editor—
Imagine it's 7 p.m. on a Tuesday night. You've eaten dinner, and now it's time to start your homework.
The library is crowded, and your roommate is being much too noisy for you to concentrate at home.
You find yourself wishing there was somewhere else to go, somewhere comfortable and quiet.
That's exactly what you'll find at The Rock coffee house.
Located at 305 S Holden St., just a block north of campus, The Rock offers a laid back atmosphere for students to relax and hang out.
The Rock Ministries are an extension of the Warrensburg First United Methodist Church.
The building has been used as a campus ministries facility for decades, and it has even been a residence for some students.
The idea for a coffee house came about last year.
"We saw that we were duplicating some of the same activities as the Baptist Student Union and the Campus Christian House, and we wanted to rethink what we could offer," said Mike Cassidy, associate pastor of the Methodist Church.
"We wanted a way to reach people and have something that would fit in with the community, so we created a unique space for that."
The coffee house opened at the beginning of November, and is open every Tuesday, Wednesday and Thursday from 7-11 p.m.
Many church members volunteered to transform the lobby of The Rock into a coffee house.
Some features include free Wi-Fi, tables where students can do homework, have meetings or play games, an area with couches and a TV where students can relax, stools for poetry readings, and a sound system and stage area where local musicians can perform. The Vespers, a Southern folk/pop band, is scheduled to perform Dec. 3 at 8 p.m.
Some walls are decorated with band posters, and there is a large concrete bar, where Fair Trade coffee is served.
Fair Trade partners with co-operatives of farmers who provide high-quality organic coffees.
"We thought, what if every decision was a ministry, even down to the coffee?" Cassidy said.
"There's a mission behind everything we do." They are also working to use locally grown produce.
"The coffee is really, really good, and you can quote me on that," said Carrie Ewing, staff assistant to The Rock Ministries.
Tea is also served, as well as hot chocolate and soda.
The refreshments are free of charge, but donations are accepted. Any money raised goes to purchase the coffee, and half also goes to local charities.
The facility is available for group meetings, and a meditation room is available for Bible studies. There is a women's Bible study every Tuesday at 7 p.m.
However, you don't have to be a Christian to enjoy the coffee house.
"We're not going to be hitting people over the head with stuff like Brother Jed or anything," Cassidy said with a laugh. "It's just a new, fresh place to get away."
Ewing added that The Rock is aimed at young adults in the community, but it's open to everyone.
"We just wanted to provide a Christian environment for students to study and engage with others," she said. "There was a coffee house here in the 1970s, and we're kind of going back to that, which I think is neat."
Another outreach of The Rock is "Breaking Bread," a free meal of soup and bread every Wednesday from 11 a.m.-12:30 p.m., that is open to the community.
For more information, visit www.rocktheburg.org, or search for "rocktheburg" on Facebook.