The power of prayer
Story by ELLEN BECKER, Managing Editor—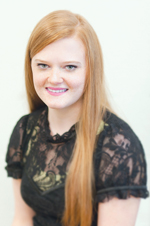 As a Christian, I often use prayer in my daily life.
I find it calms me down in stressful situations and helps me keep things in perspective.
However, that is not my primary reason for praying.
I use prayer as a means to strengthen my relationship with God.
I have found many articles that focus on the act of prayer and how it can be used to deal with day to day stress and anxiety.
In the article "The Power of Prayer," author Jeffery Sheler writes that prayer "is woven into the daily rhythms of life, its ethos embedded in the public and private experiences of millions."
He cites a Roper poll that found that "nearly half of all Americans said that they pray or meditate every day—far more than those who regularly participate in religious services."
Through my research, I can hypothesize that prayer can strengthen one's mental health.
In the article "Religion and health: The application of a cognitive-behavioural framework," the authors discuss an empirical study of the relationship between religion and health.
A sample was comprised of 177 British adults (73 males and 100 females, and four did not identify gender) aged from 18 to 75 years, with a mean age of 48.99 years. The subjects were from various Anglican churches in the United Kingdom.
Each participant completed measures of religious orientation, religious coping and prayer activity.
The results of the study suggested that intrinsic religiosity and frequency of meditative prayer account for unique variance in mental health scores.
The authors argue that religion may be crucial to better health.
I personally believe that prayer is an effective stress reliever.
Taking the time to talk with God can give a sense of peace and tranquility, and an overall feeling that things are going to be OK, because He is in charge.