Gov. Eric Greitens supports agriculture at first state fair breakfast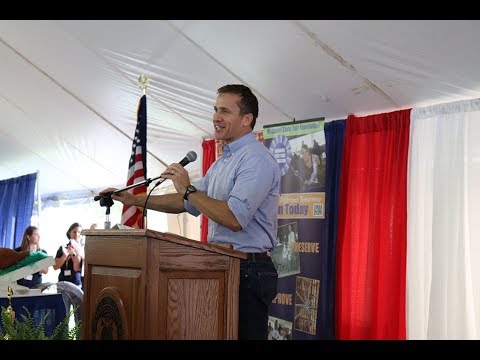 VIDEO BY KAITLIN BROTHERS / MULTIMEDIA EDITOR
(SEDALIA, Mo.) – Gov. Eric Greitens spoke Thursday at the Governor's Ham Breakfast during the Missouri State Fair. Almost 1,000 attended to hear him speak about new policies, his ideas, Missouri agriculture, business and more. Mike Stephens, a Missouri state representative said, "Our party is very happy to have him on our side. It's great to have someone that is going to be supportive of us."
—
By JACQUE FLANAGAN
Managing Editor
(SEDALIA, Mo.) – Missouri Governor Eric Greitens addressed a crowd of almost 1,000 Thursday morning, Aug. 17, acknowledging the importance and vitality of Missouri agriculture, receiving two standing ovations at the State Fair's 65th annual Governor's Ham Breakfast.
"Our administration has been working since day one to rollback regulations and working with federal partners to rollback regulations and within the state to reduce unnecessary regulations," said Greitens.
His first week in office there was an emergency hold placed on all new regulations for thorough review, he said – calling farmers to action to speak out about burdensome regulations in order to unleash the power of Missouri agriculture.


The Governor said he has seen the impact of listening to the voices and working with Missouri farmers and ranchers, referring to the administration's repeal in June of Obama's, Environmental Protection Agency and Army Corp of Engineers "Waters of the United States" 2015 regulation. A federal regulation intended to protect waterways from pollution but overreached to private land, stunting the farming industry.
Greitens addressed the relationship with the Department of Agriculture as successful with the rural-Missouri targeted MORE program. A program based on four initiatives to feed, reach, connect and empower more Missourians through farming and its production, education with expanded broadband services and agricultural stewardship/animal care awareness.
"In the last six months, Missouri has moved up nine places in the rankings of best states to do business. Today in Missouri we have more people employed than we have had at any time in Missouri history and in the last six months Missouri has been outpacing the nation in job growth," said Greitens.
Chris Chinn, Department of Agriculture director, announced at the breakfast the securing of funds and donations for high-speed internet expansion in rural communities. One of many accomplishments within the first six months of conservative office holders Greitens noted.
"I have had the opportunity to see our spirit and our resilience, not just in good times but also hard times. When a tornado strikes, when we face historic flooding in the state of Missouri. What you see is the people in this tent come together, they help their neighbors, they have each other's backs. With that same spirit of courage and resilience we are going to move forward every single day," Greitens said, closing his statement in celebration to a record-breaking state fair and bright future for Missouri agriculture.


Missouri's state fair has been operating since 1901, this year's theme was 'Come Home', the fair broke previous records with an attendance estimate of 350,000 between Aug. 10-20.
Activities included the carnival, tractor pulls, 4-H and Future Farmers of America livestock competitions, a machinery garden and an abundance of display booths featuring Missourians artwork, business products and organizations.
The breakfast was only one of the daily events, others included motorsports, rodeo and bull riding and the hosting of various musical artists in the evenings – Sawyer Brown, Halestorm, Alan Jackson, Granger Smith, those on the Southern Uprising tour, King & Country, and Red Dirt features Casey Donahew, Wade Bowen and Mo Pitney.
The fair's last day is Sunday, Aug. 20, but will host Little Big Town at the Pepsi Grandstand this evening, Aug. 19. For ticket sales or more information about the Missouri State Fair visit mostatefair.com. For more information from Gov. Greitens office visit governor.mo.gov.