UCM professor named Missouri Athletic Trainer of the Year
(WARRENSBURG, Mo.) – Brian Hughes, of Warrensburg and professor of athletic training and director of the Athletic Training program in the College of Health, Science and Technology at the University of Central Missouri, has been named Outstanding Athletic Trainer of the Year by the Missouri Athletic Trainers' Association.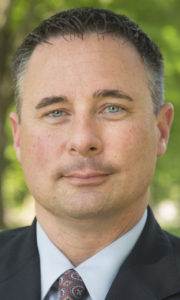 Hughes will receive the award at the MoATA annual meeting and symposium June 2-3 at William Woods University in Fulton, Missouri, according to a news release.
While attending the 2017 MoATA conference, Hughes and UCM athletic training instructor Molly Jennings will present an overview of the cardiac screening program for UCM student athletes developed in conjunction with team physicians Dr. David Glover and Dr. Drew Glover and Steve Burns, associate professor, and Matt Garver, assistant professor, of exercise science.
Hughes is a graduate of Boardman High School, Youngstown, Ohio, and received his bachelor's degree in athletic training from Ohio State University. He received a master's degree in curriculum and instruction and Ed.D. in occupational and adult education from Oklahoma State University.
Prior to joining the UCM faculty in 2001, Hughes worked as a certified graduate assistant athletic trainer for the Cowboy wrestling team while studying at Oklahoma State. While at UCM, he has been active in developing curriculum and maintaining standards leading to accreditation of the UCM program in 2006 by the Commission on the Accreditation of Athletic Training Programs. He currently teaches courses in athletic training, orthopedic assessment and professional development, and he serves as program advisor for UCM students seeking the Bachelor of Science degree in Athletic Training.
Hughes has been active in the MoATA as a host of the state meetings, as well as serving as a meeting coordinator and education committee member with the Mid-American Athletic Training Association. He also is active with the National Athletic Training Association as chair of the Professional Development Committee and NATA Educators' Conference committee.
Hughes also is active in the local community as past president of the Warrensburg Rotary Club. He and his wife, Kathy, are the parents of two children.