UCM student, vet receives Quilt of Valor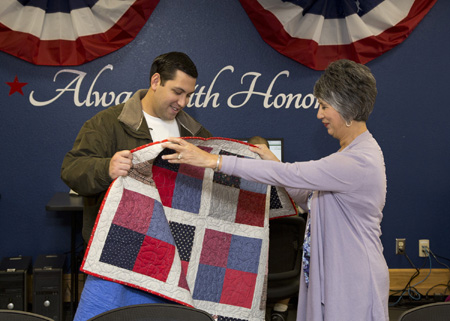 Story by ELLEN BECKER, Managing Editor
Upon first glance, Zachary Lani may seem like any other UCM student.
As a biology major, he goes to class, takes tests and writes papers like everyone else.
But what others might not know is that he suffers with post-traumatic stress disorder from his experiences while serving as an airman first class in the Middle East.
Lani is receiving assistance with his PTSD through the Military and Veterans Success Center at UCM.
In addition to working with UCM's Counseling Center, he receives help from the Kansas City Vet Center, which makes weekly campus visits to help veterans make the transition from combat to classroom.
"Being around great people makes a lot of difference," he said. "If it wasn't for the support from these people and my family, I probably wouldn't be here."
Last Thursday, Lani was presented with a Quilt of Valor for his service.
Quilts of Valor is an organization with the mission to cover all combat service members and veterans touched by war with comforting quilts.
To date, the organization has presented 69,743 quilts to veterans.
Lani was last stationed at Holloman Air Force Base, N.M., and was deployed to Qatar and then forward deployed to Balad, Iraq.
"I worked with Air Force civil engineers and served in Iraq in 2006," he said. "I did extensive work in base maintenance and repair and construction."
While in Iraq, he sustained a traumatic head injury when an IED exploded next to his convoy.
He was treated for two weeks in a VA hospital, where he suffered more than 20 seizures. "I have no recollection of those two weeks," he said. "And I still have trouble with my memory."
Lani's seizures have slowed down, and he said he is slowly and surely getting back into the swing of things. "I still have trouble with large crowds and loud noises," he said.
While in the hospital, Lani said Delilah Nichols, coordinator for UCM Military and Veteran Services, came to visit him, as did as others from the office.
"He struck a special place in my heart," Nichols said. And that's why she chose Lani as recipient of a Quilt of Valor.
In 2007, Monica Huffman, executive assistant to the president at UCM, retired from the Army Reserves in 2008. She partnered with an Air Force wife, Marylinne Snyder, to make a quilt for the organization.
Due to a miscom-munication regarding its destination, the quilt did not get sent off and was instead put away until just recently.
"I knew the opportunity would one day present itself," Huffman said. "I know that many of our military/veteran students are working hard to rebuild their lives following tours in Iraq and Afghanistan. It dawned on me that this was the perfect opportunity to give the quilt a home."
Nichols worked with Huffman for 11 years in the Office of the President. "She knew I helped open the Military and Veterans Success Center, and asked me to choose someone to receive the quilt," Nichols said.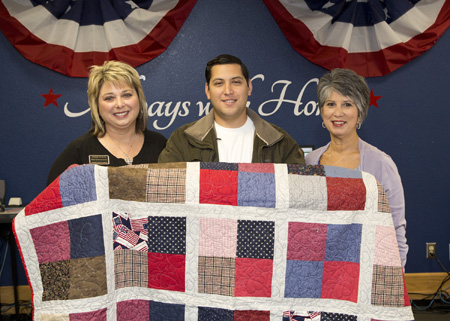 "Zack was my first thought. He was hospitalized at the time. He's such a beautiful person, and I wanted to provide him with encouragement and hope."
Lani said he was very honored and humbled to receive the quilt.
"I did my service time, but there are so many others who deserve this and have gone above and beyond," he said. "I appreciate it, and I'm not sure I deserve it."
"I'm just so glad that this opportunity came along," Huffman said. "Zack is such a nice young man; I hope that the quilt will serve as a reminder of how much people appreciate him and other men and women who have had to sacrifice so much."