Students gather in Union for election watch party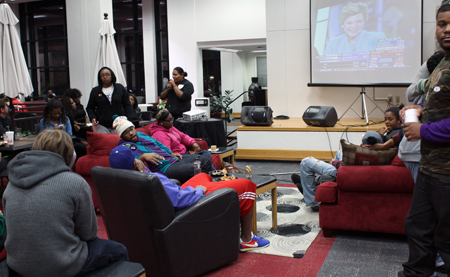 Story by Ellen Becker, Managing Editor
 The Union was filled with people from all walks of life Tuesday night as students and staff members gathered for an election watch party.
A large screen was set up in the Union atrium where guests could watch the election results come in, and there were tables with food for party-goers to enjoy.
Josh Rinker, a freshman drafting and design major, came to see the results after voting for the first time.
When asked how it felt to vote, he said it didn't feel that different. "I just went in, pushed buttons and left," he said with a laugh. "But I'd feel accomplished if the person I voted for won."
Rinker said he wasn't as interested during the 2008 presidential election.
"Back then I was 14," he said. "I didn't care about politics. Now I care since I'm thinking about my future. It pertains to me more."
Many young people are often persuaded to vote a certain way because of parental influence, but Rinker said that was not the case for him.
"I talk about individual topics with my parents, but not who we're voting for," he said. "As kids are raised, their mindsets are the same as their parents, but I researched each candidate and made up my own mind."
Some came to watch the results roll in, even though they chose not to vote.
Sammi Eickhoff, a freshman nursing student, said she chose not to vote because she didn't know enough about the candidates.
"I wasn't educated enough to pick either one of them," she said. "It would have been my first time voting, but I was too lazy to get an absentee ballot. I plan to be more mature and educated in the next election."
Sophomore education major Brigitte Gernetzke had similar feelings.
"I didn't vote because I wasn't educated enough, and I didn't like either candidate," she said. "I came tonight to see who wins and for the free food," she said as she smiled.
Kacie Ferguson, a freshman biology major, agreed with the other two that she did not know enough to vote.
"Also I wasn't sure if I was registered," she added. "I'm from Kansas City and would have had to go home, but I had class. I'm not too upset that I didn't vote because lots of people still did. I'll definitely be more prepared next time."
Sarah Ramlal, president of SGA, helped set up Tuesday's event, along with Spotlight and the American Democracy Project. SGA helped provide prizes, which were given out throughout the evening as guests were asked a variety of political trivia questions.
Ramlal said she did not vote in the 2008 presidential election, even though she was 18. "Up until last year, I didn't realize how important politics are," she said. "My biggest regret is not voting back then, but it gives me better insight now when I talk to other students and approach them with information."
She said voting is very important to her now. "It means the opportunity to express how you really feel and contribute to the government the way you want to," she said.
Student Governor Kyle Shell was also at the event. "The turnout is very impressive," he said. "We've had more than 200 people come tonight, and it's nice to know this many students are involved politically. It really shows the character of UCM and its students."
As student governor, Shell sits on the UCM Board of Governors. "It's part of my job to voice my constituent's opinions, which is one reason I chose to get involved in politics," he said.
He said he came to the watch party to see the results come in, engage with other students and see how others view the political system. "Voting means exercising the right to voice your opinions in the election process and lead the government in the direction you want to," he added. "For those that didn't vote, I would encourage them to really get involved and make their voice heard."
Josh Lewin, a graduate student from England, said he came to the watch party for the free food, and "just to see what happens."
Lewin came to UCM two years ago as an exchange student, and came back this semester to start graduate school. He said he finds the American election process interesting. "It's funny how hyped it is here," he said with a smile. "Everything is on TV. You guys like to put on a show. We don't have parties like this."
He added that England has a similar election process, "but here, it's just entertainment. People backstab people here, and it's not like that back home."
Other things Lewin said he finds different are the political issues highlighted in the election. "Some topics like healthcare wouldn't be an issue with us, because we already have a system."
He also said that the political parties in England are much different from the U.S. "Our conservatives are more liberal than your liberals," he said with a laugh.
He said he is not very impressed with the election process here. "It's kind of disappointing because there are only ever two candidates," he said. "People probably vote not because of policies, but because of parties. Like Republicans vote for Republicans, and Democrats vote for Democrats."
By the time the results of the election were announced, the food tables were left with nothing but empty plates and crumb-filled trays, and the crowd had died down.
Some guests left disappointed, and some ran through the halls of the Union jumping and screaming with joy.