By LAUREN KOSKE
Multimedia Editor
(WARRENSBURG, Mo., digitalBURG) — Spending weekday mornings as a barista on a college campus allows Andrea "Andi" Bradley to connect to students one cup of coffee at a time.
"It keeps you feeling a lot younger, you get to see the kids and talk to them, ask them about their classes," Bradley said. "You get really personal with a lot of them, because some students come several times a day."
Bradley – a Warrensburg native – has been working at Jazzman's, a small coffee stand on the second floor of the Elliott Student Union, since 2012.
Story continues below advertisement
"I came across this job unexpectedly," Bradley said. "I was a stay-at-home mom and my kids left the house, then I was contacted by a friend, who was the manager at Taco Bell at the time, to see if I would be interested. I enjoy it and that is why I stay."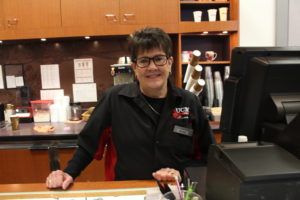 Although she loves the flexibility and atmosphere of her job, Bradley said it is the personal connections she makes that bring her the most fulfillment while she is on the clock.
"I really enjoy working for Sodexo on campus," she said. "You really become friends with all of these people, I love getting to know the faculty and staff better, and being in the college atmosphere."
Bradley serves students at Jazzman's by making gourmet drinks and snacks such as lattes, iced tea and fresh baked goods, and can often be found making conversation with her customers when they visit the stand in between classes.
"I did not think I would still be here, but I really enjoy it and it gives me a job part time to get me out of the house," Bradley said.
When she is not working as a barista, Bradley said she enjoys cooking and spending time with friends – but most of all she finds fulfillment spending time with her family, specifically her three grandchildren, who are all around the same age.
"I have three grandbabies. I have a set of twins in Okinawa, Japan, and a 5-year-old in southern Texas," Bradley said. "They will all be starting kindergarten in the fall."
Bradley said working at Jazzman's gives her a set schedule for every weekday, working in the mornings till around lunchtime. She said she likes to have a set agenda for her day.
"The nice thing about working on a college campus is that when the students are off, I am off," Bradley said. "It gives me so much flexibility to spend time with my loved ones."
Because of the long periods of time Bradley is able to have off work, she was able to visit her daughter and grandchildren in Okinawa just last year.
"I loved Japan," Bradley said. "I am very excited to be able to visit my other grandbaby in southern Texas over spring break – my daughter already has the menu planned."
Bradley said she loves to cook at home and share her recipes with friends and family.
"I think food really brings people together," she said.
Bradley said she plans to continue serving the UCM community as a barista for years to come.
"I really love all aspects of my job," she said. "It's a joy to make people's day, to make their day a little happier."