Ashtrays installed around campus to curb littering
By CASSIE SLANA
Senior Writer
(WARRENSBURG, Mo., digitalBURG) — University officials want smokers to stop flicking cigarette butts onto the ground, so they brought back a few ashtrays.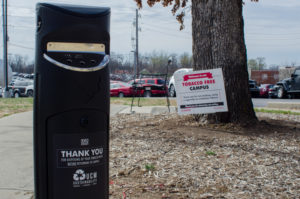 UCM Facilities, Planning and Operation staff installed four ashtrays around campus March 2. One is located on the corner of South Street and North College Avenue, one is at the corner of East Clark and Missouri streets, another was put in at the intersection of Holden and Union streets, and the last is outside the South East Complex.
The university banned smoking – minus a few exceptions – nearly three years ago before updating its tobacco policy Jan. 8, 2015, to exempt sidewalks running adjacent to city-named streets, which are designated public rights of way. After the update, ashtrays and waste receptacles located in former designated smoking areas around campus were removed. This change left policy breakers no immediate means of disposal for cigarette butts and other tobacco-related waste.
Amy Kiger, director of Violence and Substance Abuse Prevention, said the Office of Sustainability and the VSAP office began working together last summer to find a solution for the litter. She said the locations where ashtrays were added have become littered with cigarette butts over the years.
"(We're) trying to place them in those locations so they can have a place to throw their butts away rather than on the ground," Kiger said. "The bins that have been placed are tobacco recycling containers. So, there's a company that actually recycles tobacco cigarettes because cigarettes butts are not biodegradable."
Beth Rutt, director of student activities, said the company takes the used cigarettes butts and reuses them to make concrete bumpers used in parking lots.
Rutt said solving the littering problem will benefit students and the campus as a whole.
"The initial reason why they wanted the recyclable containers is that they were having continued problems with people going to the sidewalks but leaving debris. That was being frowned upon," Rutt said. "We thought that if we put these in, it would help minimize the trash from it basically."
Rutt said the ashtrays cost $1,939, with an additional $150 spent for concrete to secure the receptacles. She said the price includes two additional containers on standby in case one is damaged.
Rutt said she thinks the efforts of the university has curbed smoking on campus.
"Once in a while I might see someone walking across campus smoking, but usually it's because they're not aware of the request of not to smoke on campus," she said.
Rachel Alvarez, a junior nursing major and nonsmoker, said she doesn't like the addition of ashtrays on campus.
"I don't think we should upgrade or promote smoking at all if we don't want it near campus," Alvarez said. "I personally don't like smoking on campus. I think it can mess with others' asthma if they breathe it in, plus it's just a safer environment without it."
Rutt said she does not think the new containers will invite people to take up smoking.
"I don't want to look at it like I'm encouraging you to smoke," Rutt said, "but what I am trying to do is to acknowledge, 'Hey, we do have students and employees that do smoke, so let's try and help them to minimize the waste and keep our campus aesthetically as pleasing.'"