Jennies secure spot in MIAA semifinal round after win over SBU
By STEVEN SPEARS
Managing Editor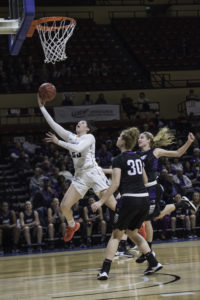 (KANSAS CITY, Mo., digitalBURG) — After a close first half, Jennies basketball secured a 80-61 win over Southwest Baptist University to advance to the semifinal round of the MIAA Tournament.
The first half of the game was a nail-biter, with the lead changing eight times and the score tied 10. The Jens looked to pull away in the second, getting a nice nine-point cushion to work with that brought the score to 26-17.
The Bearcats, however, went on a 16-5 run that ended with a lead-changing three pointer from Megan Rosenbohn. UCM's Ashley Duffy sunk a two-point buzzer beater following a steal to tie the game at 33 heading into halftime.
The teams' first half performances mirrored the score. Both The Jennies and the Bearcats went 13-for-27 in the half and 3-for-9 from behind the arc.
The back and forth nature of the first half continued into the third quarter, but the Jens defense soon took control.
The Jennies went on a 26-5 run starting at the 3:35 mark, all but securing the win. UCM's defense kept the Bearcats to 10 points in the fourth and SBU's accuracy lowered to 32 percent in the second half, shooting just 9-for-28.
The Jennies had three score in the double digits. Duffy led the team with 24, while Paige Redmond racked up 23 and Kayonna Lee added 11. This was Redmond's third straight 20-point game.
Redmond also had team-highs in rebounds and assists, with seven each. Duffy led the team in steals with five and had an additional five rebounds.
With the win over the Bearcats, the Jennies move on to the MIAA semifinal round for the first time in two years. They face Emporia State 6 p.m. Saturday at the Municipal Auditorium in Kansas City, Missouri.
For more photos from Friday's game, visit out Facebook page.