Faces of UCM: Alicia Resch
By DENISE ELAM
Features Editor
(WARRENSBURG, Mo., digitalBURG) — Music makes Alicia Resch feel as though she is in her own world. A world without bullies who try to put her down.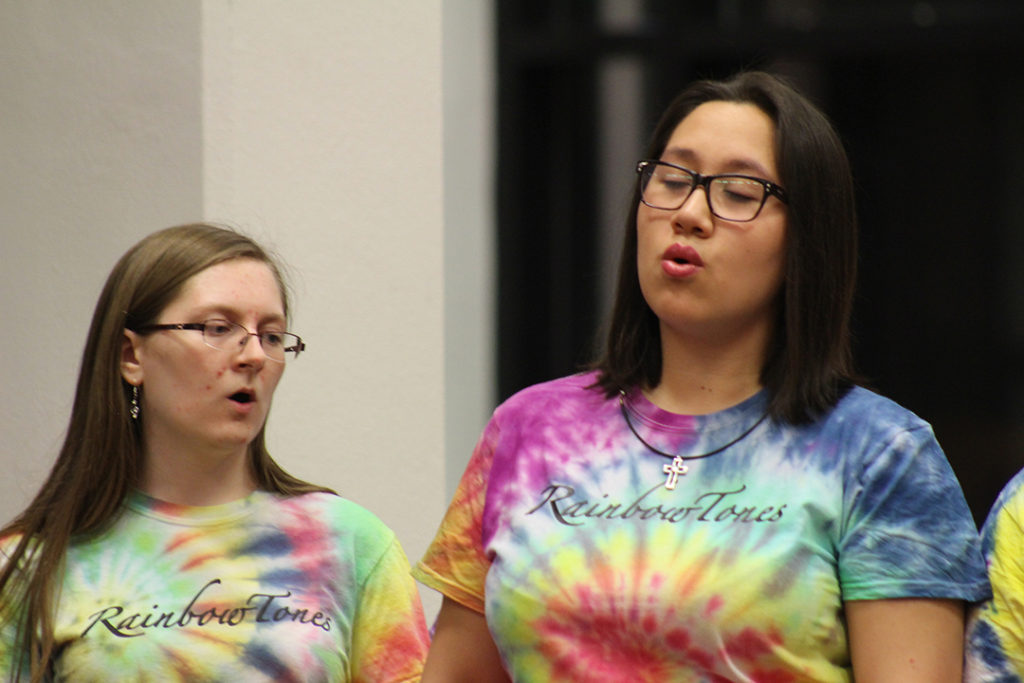 "I feel like I'm really shy… and I also stutter, but I feel like whenever it comes to music… I feel like it gives me a new sight of the world," Resch said. "Whenever I'm onstage doing music it's like that world behind me no longer exists."
Resch is a sophomore studying instrumental music education. She plays the trombone, loves to sing  – especially Disney songs – and plays a little bit of the piano, baritone, tuba, bass guitar and drums. She said she hopes to one day be an elementary music school teacher. She said her love of music first sprouted in elementary school.
"I love to work with kids, and I feel like if my elementary school music teacher made such an impact on how I want to live my life then I want to know what that feels like to do to someone else's kid too," Resch said.
She said she wants to teach her students to not be afraid to express themselves regardless of the flaws they may have.
"Like, I stutter yet I can sing at incredibly fast tempos," Resch said. "And there was this one video I watched that really inspired me to live my life the way God intended for it to be, saying nothing is going to go perfectly as planned. Like, there are going to be some bumps along the road but as long as you figure out a way to navigate the course then your next ride will be smooth sailing."
Resch said her shyness and her stutter have been obstacles she has had to overcome.
"I feel like the more that I've gotten older, the less afraid that I have been of stuttering in front of people because I know that a lot of the people that I know have accepted me for that and they choose to not make fun of me for it," Resch said. "I feel like I've definitely grown out of my shell since last year because I'm wanting to be involved in so much stuff and get my name out there."
Resch is a part of the United Students Housing Association, Rainbow Tones, the National Association for Music Education, Navigators Student Ministry, The Better Man's Society, Mindful Mules, Prism and Spotlight VIP. She is a part of the symphonic band and concert choir at UCM and has been in marching band since her freshman year of high school. She is currently the social recognition committee chair for USHA. She said she teams up with others in USHA to figure out how they want to reward and recognize people.
"Me and my team, we basically keep our eyes open around campus for any specific person or groups of people that we feel like have made an impact to (the) UCM community and their residents," Resch said.
Resch said USHA recently awarded Amy Jenkins, who works in the Elliott Student Union, and Ester Adams, who works in the Ellis Dining Hall, with certificates of recognition, flowers, candy and gift cards.
With some help from other USHA members, Resch has planned USHA's Social Recognition Week scheduled for Feb. 19-25. She said the program will consist of events throughout the week.
"My favorite (event) that we're doing is what's going to happen on Tuesday," Resch said. "We're calling it 'Treat Yo Self (or Somebody Else) Tuesday.' Basically… we're going to have a big table set up in the (Union) Atrium and… you have the chance to make a Dum Dum bouquet for someone or for yourself and then you can put a note to make their day."
Resch said she wants everyone to be able to recognize themselves because everyone makes an impact on UCM.
"We just got a bunch of stuff thought out for it and honestly I cannot wait to see how they turn out," Resch said.
She said she doesn't know where she would be right now without USHA and her friends who told her about the social recognition chair position.
"And honesty, when I put on the polo that said USHA executive board and the first time I put on my name tag, I honestly felt like I have grown since last year, because last year was pretty rough in terms of grades for the fall," Resch said. "But I felt like I kind of gave myself a second chance during the spring and I felt like that has had a lot of impact on what I've been doing now."
Resch said she wants to leave her hoof print on campus before she leaves.
"And I don't know when that's going to be but all I know is I'm going to have a fun time to see what else is to come while I'm still here," Resch said.
Resch said she is proud of just being here and experiencing more opportunities at UCM. She said people shouldn't have an award or title that defines their accomplishments but instead be grateful that they're just here getting the chance to learn more about what they want to do for the rest of their lives.
"Whenever I wake up and I watch the sunrise from across the field, I feel like today's going to be a beautiful day and I'm not going to let anything bad get in the way of how I want to live my day," she said. "I'm mostly just proud of being here."