International student forum addresses state of uncertainty
By JACQUE FLANAGAN
Design Editor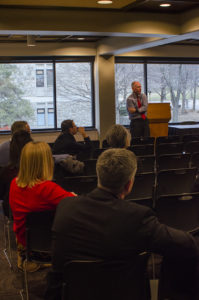 (WARRENSBURG, Mo., digitalBURG) — UCM President Chuck Ambrose hosted two international student forums to address concerns stemming from President Donald Trump's recent international travel ban.
"As a community I express a sense of responsibility, embarrassment and sometimes sadness that policy would get in the way of us fulfilling our mission of educating our international student population," Ambrose said during the second international student forum Wednesday, Feb. 8, in the Elliott Student Union.
Ambrose's statement and the forums were in response to Trump's executive order Jan. 27, blocking immigrants from seven Muslim-majority countries – Iran, Iraq, Libya, Somalia, Sudan, Syria and Yemen – from entering the United States for 90 days. The order also halted all refugees for 120 days and banned refugees from Syria indefinitely. The order was suspended by the U.S. Court of Appeals for the 9th Circuit Feb. 9, and is currently under legal evaluation.
Ambrose told the group of 25 students, faculty and staff at the forum that the higher education community does not support the ban and international students are welcome and valued at UCM.
"I can only speak as president of the University of Central Missouri, someone that is responsible on this campus, but more as an American, I'm sorry," Ambrose said. "For any sense of anything that would get in your way to have you come study here and fulfill your dreams and aspirations and take those home – or to stay here."
Ambrose's opening remarks were followed by the few certainties the administration did have, and based on their social and economic sense of policy he said the university has no plans to unwind the global dependence built with the international community.
"There's only so much we can do," Ambrose said. "But we'll do everything we can."
Deborah Curtis, provost and chief learning officer, said students at the Lee's Summit forum said they were concerned about being unable to leave for breaks and  families not being able to come for commencement.
Curtis said university administrators simply do not know the answers but they are taking strides to open up a line of communication. Curtis said the administration would be sending out a weekly newsletter to the international community to keep them updated on the situation. She said a link to it will be added to UCM Daily for domestic students with concerns.
Curtis said the administration, with the help of Joseph Lewandowski, dean of the Honors College and International Affairs, will host webinar sessions with interpreters for students and families who need more assurance.
Both domestic and international students asked questions about the travel ban and how it relates to their specific situations. Student questions ranged from traveling for internships, renewed visas and safety. Some attendees also shared their perspective, even though the ban didn't include their home country.
"When we talk about the subject about us not going back (home) it's more like 'Why? Why us?' There might be problems from somewhere, but we're good people. Why do you have to blame the good people?" said Faisal Jamalharirie, a junior industrial engineering major from Saudi Arabia. "I wouldn't want anyone to be in my country and feel like they can't leave – or if they do leave they can't come back in."
Pelala Aswad, a Syrian national enrolled at UCM, said he attended the forum because he is the only student from Syria on campus but got more than he anticipated.
"Lately I've been uncomfortable, thinking a lot, coming to the forum gave me a sense of support from the university…" Aswad said. "I'm the only one from Syria (at UCM) so I thought it's not that important for me to stay here but then I discovered that all of them want me to stay and (are willing to) help me."
Lewandowski closed the forum by going over the resources available to international students including their advisors, the UCM legal counsel to an extent and their home embassies.
"While there are a lot of things that are uncertain, there is one thing that is certain, UCM is a friend, member of the global community and glad you're here," Lewandowski said. "If you have questions or parents that have concerns all you have to do is reach out."