Career expo draws upwards of 150 employers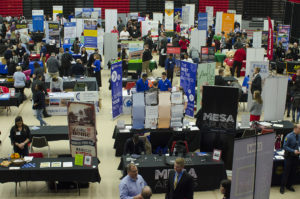 By MULESKINNER STAFF
(WARRENSBURG, Mo., digitalBURG) — More than 150 employers filled the Multipurpose Building Wednesday, Feb. 8, for this year's BIG Career Expo.
The event allowed students to network with recruiters while learning more about organizations in all areas of business, industry and government. Many of the 164 employers in attendance were recruiting for full-time and internship positions, according to a university news release.
The Big Career Expo was followed by BIG Interview Day Thursday, Feb. 9, in Ward Edwards. Approximately 20 employers interviewed more than 200 students for openings, according to UCM Daily.