Faces of UCM: Trae Venerable
By DENISE ELAM
Features Editor
(WARRENSBURG, Mo., digitalBURG) — Trae Q. L. Venerable likes to categorize himself as the country Kanye West.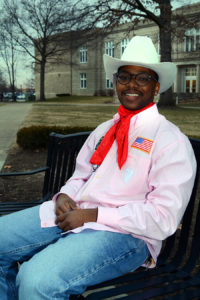 "That's kind of like my go-to, 'cause I'm like off-the-wall like Kanye… Like, I'll wear some tight, tight, Wranglers or aka stranglers and I'll wear a long tee and just layer it with my cowboy hat on and some boots," he said.
Venerable said he is a polymath individual who does a little bit of everything. He is a senior studying safety management, but he's passionate about business. He has his own brand of clothing called Cowpoke and has written a children's book titled "Grandpa I Just Wanna Be a Cowboy."
"It was a self-published project, but now I signed a traditional publishing contract for 10 years," Venerable said. "And so it's a three-part children's series and once all that legal jargon gets out of the way, it'll be out."
Venerable got his start as an entrepreneur at a young age. He said his dad helped him start a business of mowing grass in his town.
"It wasn't just like me going door-to-door," Venerable said. "I had commercial residential accounts… I did my own books and stuff. My dad taught me how to do them."
Venerable said his brand Cowpoke literally means to be a cowboy. He said every generation in his family has owned a ranch or a farm.
"I'm not the normal cowboy 'cause my skin color –  so I'm Native American and African American too," Venerable said. "And so that's like a weird concept to people around here about a black cowboy."
Aside from his clothing brand and children's books, Venerable is working on a TV series with his friend Austan Jones. He said it's going to be a satirical TV show that depicts a college kid's life in Warrensburg.
"It's called 'Drifters,'" Venerable said. "I'm helping him write it and then we're going to film it in Warrensburg and then we're going to have a YouTube channel for it."
Venerable said he wants to leave a cool legacy for his children.
"I don't want to be on my death bed and say I didn't try something," Venerable said. "So I just do it all."