Jack Turner
Jack Lynton Turner, 81, of Knob Noster, passed away Tuesday, Jan. 3, in his home.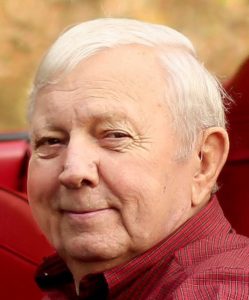 Funeral services will be held at 10 a.m. on Friday, Jan. 6, at the Knob Noster United Methodist Church with Pastor Bryan Wendling officiating. Interment will follow in Warrensburg Memorial Gardens Cemetery with full military honors by the Warrensburg American Legion Post 131 and VFW Post 2513. Pallbearers will be Dee Witbeck, Scott Chaffin, Brett Marsh, Jordan Fijal, Cody Rhinehart, and Steve Johnson. The family will receive friends from 6-8 p.m. on Thursday at Sweeney-Phillips & Holdren Funeral Home in Warrensburg.
He was born Oct. 9, 1935 in Valley City, Missouri, the son of Guy L. and Mary Lee (Hurt) Turner.
On Aug. 21, 1960, he and Pat Harms were united in marriage at the Chilhowee Methodist Church.
Jack graduated from College High School, Warrensburg, in 1953. Upon graduation, he served in the Army for two years. After settling in Knob Noster, he and Pat owned the Knob Noster Auto Supply for 25 years. He then was the owner and operator of a car wash, laundromat, and several residential properties in Knob Noster until retiring in 2003. Jack was a lifetime member of the Elks Lodge and a member of the Knob Noster United Methodist Church for over 50 years. He enjoyed collecting and restoring tractors and cars, especially Fords. If he wasn't underneath a car, you could find him telling stories over a cup of coffee. He was a loyal friend and devoted family man.
Jack is survived by his wife, Pat Turner, of Knob Noster; two daughters, Dana Chaffin and husband, Scott, of Knob Noster, and Donna Turner-Witbeck and husband, Dee, of Warrensburg; four grandchildren, Shea Fijal and husband, Jordan, Shelby Marsh, Brett Marsh, and Frannie Witbeck; and one great-granddaughter, Olivia Fijal.
He was preceded in death by a brother, Bill Turner, and two sisters, Betty Neighbors and Iris Burton.
Memorial contributions are suggested to the Knob Noster United Methodist Church or the Johnson County Cancer Foundation and can be left in care of the funeral home.