Heiss, Pearce celebrate victory Tuesday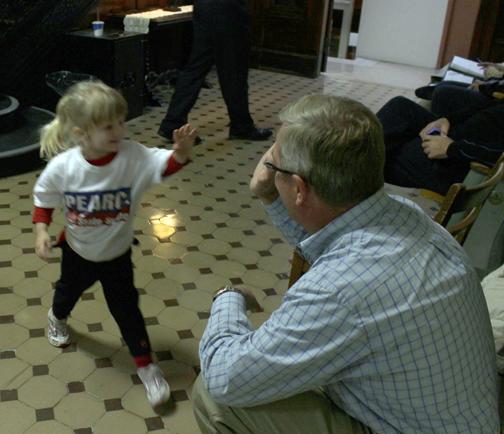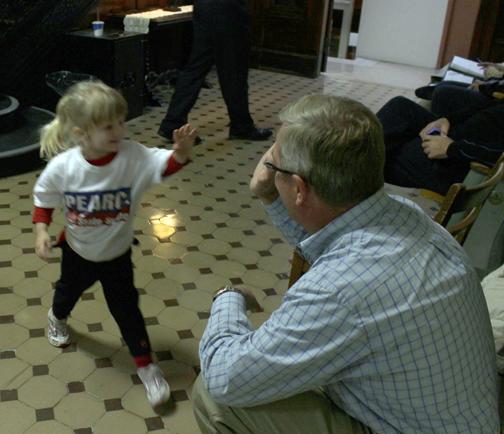 Editor's Note: The lead contains a clarification from the previous version, which incorrectly stated the sheriff was the first person in the county to win a fifth term.
By ANDY LYONS (WARRENSBURG, Mo., digitalBURG) – Chuck Heiss became the first sheriff in Johnson County to win a fifth term Tuesday, and State Sen. David Pearce won in a landslide despite redistricting to retain his seat in the 21st District.
"Due to redistricting, this is almost a brand new district," Pearce said. "Of the eight counties, seven are new. It was a tough campaign, and it started last Nov. 30 getting to know the new counties and the new districts, so it's been a year in the making."
Pearce, along with several other local politicians and residents, gathered in the Johnson County Courthouse as results were updated and displayed on a projector.
Johnson County Republicans won every local office except one. Destry Hough won the county commissioner seat for the Western District by 51 percent, defeating Lloyd Sisk 4,953 to 4,746.
Heiss, who defeated Brian Hobbs 11,824 to 7,275, expressed his excitement for the future of the Johnson County Sheriff's Office and his plans.
"We're in a new facility. We have a lot of new programs, a lot of things we're working on," he said. "This election is a true testament to the men and women that work with me at the sheriff's office. I'm only here because of the work that they do."
Pearce attributed his victory to the campaigning he had done since the primary. With the redistricting in Missouri prior to this election, one senator lost her seat so it was necessary to have support in all eight counties in the new district.
Pearce defeated Elgene Ver Dught by 14,971 to 4,616. Dean Dohrman defeated Gary L. Grigsby 2,610 to 2,459 in District 51 for state representative.
Stanley Cox defeated Phyllis Sue Domann 986 to 512 in District 52 for state representative. Glen Kolkmeyer defeated Holmes Osborne 383 to 252 in District 53 for state representative. Denny Hoskins defeated Nancy Maxwell 7,744 to 3,879 in District 54 for state representative.
William Collins defeated Chase Higinbotham 11,739 to 7,990 for Division 1 judge in the 17th Judicial Circuit.
Heather Myers-Reynolds defeated Scott Dunham 11,550 to 8,460 for county treasurer.
There were mixed results regarding the amendments and statutory measures on the ballot.
Proposition A, which restructures municipal police procedures in St. Louis in order to save money, was approved 1,610,427 to 910,295.
Proposition B, which was designed to increase taxes on tobacco products, was voted down by a vote of 1,357,437 to 1,314,856.
Proposition E, which prohibits the governor or any state agency from creating state-based health insurance exchanges without a vote by the people or legislature, was approved by a vote of 1,567,816 to 970,924.
And local voters agreed to permit the Johnson County Emergency Services board to increase its sales tax rate by a ½ percent to fund improvement to existing 911/dispatching capabilities by a vote of 11,439 to 8,853.