By STEVEN SPEARS
Managing Editor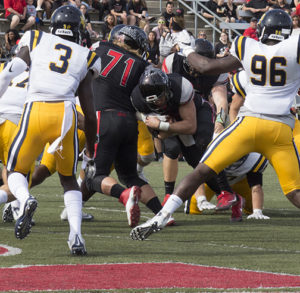 (WARRENSBURG, Mo., digitalBURG) — After a slow start that saw a 14-point first quarter deficit and two missed kicking attempts, the Mules rallied in the second half to beat the University of Central Oklahoma 48-28 and bring their win streak to four.
The Bronchos started strong Saturday, Oct. 29, scoring on their first two possessions on the game. The Mules fought back in the second quarter, capitalizing on a fumble recovery at the UCO 5-yard line to gain six on a three-yard run by quarterback Garrett Fugate. Billy Greco's extra point attempt was blocked, bringing the score to 14-6. The Mules followed that up with a 10-play, 85-yard drive ending with an 11-yard end around to Jaylen Zachery to bring the score to 14-13 headed into the half.
"Offensively, we were just out of sync (in the first half)," said head coach Jim Svoboda. "I think Garrett was a little out of rhythm. It was a little bit windy and our passing game was just a little bit off."
Svoboda said the Mules defense has really jelled as the season has progressed. He said they made defensive adjustments prior to halftime that helped turn the tide in the game.
Redshirt sophomore Dylan Albertson said stopping Central Oklahoma's running game was a priority for the defense. The Bronchos are ranked No. 3 in the MIAA for rushing offense.
"We knew they were going to have a high-powered offense," Albertson said. "So we knew they were going to be a high-powered running game and we made a conscious effort to stop the running game."
Albertson had a team-high two interceptions against the Bronchos. He intercepted a pass from UCO quarterback Chas Stallard in the third quarter, running it back for 28 yards to set the Mules up in the red zone, which led to another Zachery touchdown and UCM's first lead of the game.
"I had seen a couple earlier in the game that I didn't get my hands on. I wasn't in the right spot. I actually dropped one early on," Albertson said. "I was just able to read his (Stallard's) eyes. He was kind of staring people down so it was more of just right place, right time."


Albertson's second interception of the day resulted in a 51-yard touchdown run and finalized the score at 48-28. With 7:55 left on the clock, it helped keep the momentum in the Mules' favor and cemented the victory for the home team.
"The first (interception) I knew was a big play because our momentum was kind of just shot," Albertson said. "So that was a big one no doubt. Then the last one we had to get a stop, but to do it in that fashion was awesome because that just kind of put them away."
Most of the success on the ground came from Fugate. He ended the day with 91 yards rushing. Fugate said he knew he would have to run the ball a little more than usual, but he didn't realize how much more.
"Most of those plays were zone reads and they didn't really adjust too much to it throughout the game so we got a lot of good yardage out of that, which helped open up the passing game a little bit," Fugate said. "Obviously I don't like to take that many hits a game but if that's what they're going to give us, then that's what we have to take."
Svoboda said having a quarterback like Fugate allows for the read option.
"We're not crazy about him carrying the ball that many times but (the) situation presented itself and that's the luxury of having a mobile guy like that," Svoboda said.
The Mules will face Northeasten State (2-7) for their final road game of the regular season Saturday, Nov. 5. Svoboda said Riverhawk quarterback Dimonic McKinzy is the biggest offensive threat of the upcoming game.
"He's a really good athlete, throws the ball well, throws the long ball well," Svoboda said. "He has a knack for making the big play, which always makes you nervous. So we're going to have to do what we can to make him uncomfortable back there and affect his decision making."
Fugate said although Northeastern State hasn't won many games, they need to be taken seriously since the playoffs are just around the corner.
"We're obviously fighting for a playoff spot, so we can't overlook them," Fugate said. "(We) just have to go out there and execute our game plan and I think we'll win the game pretty handily."


Fugate said the Mules have been in playoff mode for a long time now.
"With two losses we know we can't lose another game or we're done," he said. "Since week five we've been in our own little playoff you could say."
Svoboda said the team is looking ahead to the playoffs but have to take it a game at a time.
"We're in position now where we're seventh in the region. If (the season) ended today we'd be in the playoffs," he said. "We're in control of our destiny. Our goal is to win out and get in the playoffs."
The Mules will face the Riverhawks 2 p.m. Saturday, Nov. 5, at Doc Wadley Stadium in Tahlequah, Oklahoma.
Story continues below advertisement