Mules basketball set for rebound season
By JACOB WOERTHER
Sports Reporter
(WARRENSBURG, Mo., digitalBURG) — November is finally here, and with it comes another season of Mules basketball.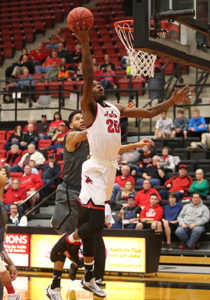 Early November kick-starts the annual excitement for UCM basketball fans, but this year it's accompanied by another feeling that Mule fans haven't experienced in recent years: concern.
The Mules ended the 2015-16 regular season with a losing record of 14-15 – a far stretch from the 25-win season they had the previous year and the 30-win, championship season in 2013. The Mules struggled in conference play, finishing just 8-14 against fellow MIAA competitors.
One of the biggest problems the Mules faced last season was rebounding. The team ranked 11th in the MIAA in rebounding offense and 13th in rebounding defense. The Mules' leading rebounder, senior forward Marquiez Lawrence, recognized this reoccurring issue.
"We weren't satisfied with our rebounding last year," Lawrence said. "We felt like a lot of teams could bully us. This year we're taking a different approach. Coach (Doug Karleskint) has given us a lot of drills that we can work on as a team and get better collectively."
The Mules' poor rebounding, coupled with an average of just 70.7 points per game (13th in the MIAA), made for a less than ideal season, but head coach Doug Karleskint said adjustments can be made. He said he has high hopes this season and sees a lot potential in this year's team.
"This is a group that wants to be coached. We've been coaching hard and they've responded well," Karleskint said. "This is an unselfish team. (It's) a team that's working hard. They really like each other. The chemistry has been good, the locker room has been good, and they like hanging out with each other, which goes a long way when you're in the heat of battle and can count on your teammates."
Karleskint's optimism was put to the test Friday, Oct. 28, when the Mules played the Arkansas Razorbacks in their first of two exhibition games. Marquiez Lawrence, Spencer Reaves and Kyle Wolfe each had 10 points on the day. Lawrence also finished the game with a team-high eight rebounds. The Mules, however, fell short in their opening contest 87-60.
Despite the loss, Karleskint pulled some positives away from Friday's game.
"(Arkansas) threw a lot of size and speed and strength that we won't see in our conference," Karleskint said.  "It was a good eye-opener for us. (It showed us) how strong we have to be with the ball and how quick our shots have to get off."
The Mules' final exhibition game before the regular season begins is scheduled for Friday, Nov. 4, on the road against the University of Missouri—Columbia. The Mules regular season with a Nov. 11 home game against Minnosata-Duluth.