By DENISE ELAM
Features Editor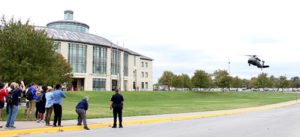 (WARRENSBURG, Mo., digitalBURG) — A Blackhawk helicopter landed on the front lawn of the James C. Kirkpatrick Library Wednesday, Oct. 19, attracting students and faculty alike.
The landing was a homecoming campaign event organized by Ben Boyd of Alpha Tau Omega. Boyd, a criminal justice major, is running for homecoming king alongside candidate Calli Brewer, representing Delta Zeta, for queen.
Members of both organizations campaigned in front of the library after the helicopter landed.
Students were able to sit in the Blackhawk and pose for pictures while it was on the ground. Members of the National Guard were on hand to assist the students in and out of the helicopter.
Story continues below advertisement