By STEVEN SPEARS
Managing Editor
There was a possible bomb threat to Nattinger/Bradshaw Hall last week, forcing the lockdown of the building but not its evacuation.
A Public Safety crime alert was sent out to students and faculty at 9:38 a.m. Thursday, Oct. 13, alerting the campus that a threat had been received affecting residents of Nattinger/Bradshaw and law enforcement agencies were investigating.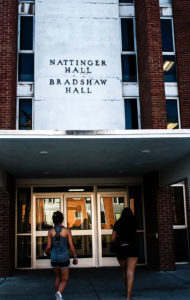 All exterior doors to Nattinger/Bradshaw were locked while the investigation was underway.
Story continues below advertisement
The university sent out a follow-up email at 11:27 a.m. to say the threat was investigated and found to not be credible.
"The University of Central Missouri today became aware of a possible threat against residents of Nattinger/Bradshaw Hall," the email read. "While there is no strong indication that the threat is credible, we take all matters of campus safety seriously. A search of the building did not reveal any indication of risk."
Terry Neal, president of the Missouri Education Workers Local 1, said a custodian reported the bomb threat. He said numerous notes have been posted around the residence hall containing messages like, "I know how to get in this building, I can get in here anytime I want, there's nothing you can do about it, and there's a bomb in the building."
"So there's been all kinds of hints of terroristic acts," Neal said. "I don't know what you want to call it, but that's what it sounds like to me. And our custodians are concerned for, of course, their safety."
Neal said the university didn't evacuate the building after the threat. He said it took about two or three hours after the public safety alert to get the university to allow custodians working in Nattinger/Bradshaw to evacuate.
When asked for comment about why the building was not evacuated, university relations said the university "did not believe it warranted evacuation."
"It concerns me the university isn't taking this more seriously," Neal said. "Sweep it under the carpet is what they're trying to do. They've threatened to retaliate against the employees if they speak to the press."
Following the second email from Public Safety, the Muleskinner was contacted by multiple residents of Nattinger/Bradshaw who said the threat referenced in the email had to do with threatening messages that had been posted in the residence hall since mid-September.
UCM Public Safety received a report of harassment at 1:11 a.m. Wednesday, Sept. 28, on the second and third floors of Nattinger/Bradshaw Hall. An unknown individual had been writing threatening messages toward a particular community advisor on bulletin boards, white boards and doors all over the residence hall, according to a police report. The messages had been a recurring issue for at least two weeks prior, according to the report.
The Nattinger/Bradshaw residents said the messages never stopped. The individual just focused on more people. They said the most recent message talked about a bomb.