MAPS hosts appreciation coffee, landlords, property managers recognized
By KAITLIN BROTHERS
Reporter
(WARRENSBURG, Mo., digitalBURG) — The Office of Mentoring, Advocacy and Peer Support, with President Chuck Ambrose, hosted an appreciation coffee for Warrensburg landlords and property managers Sept. 30 in the Administration Building.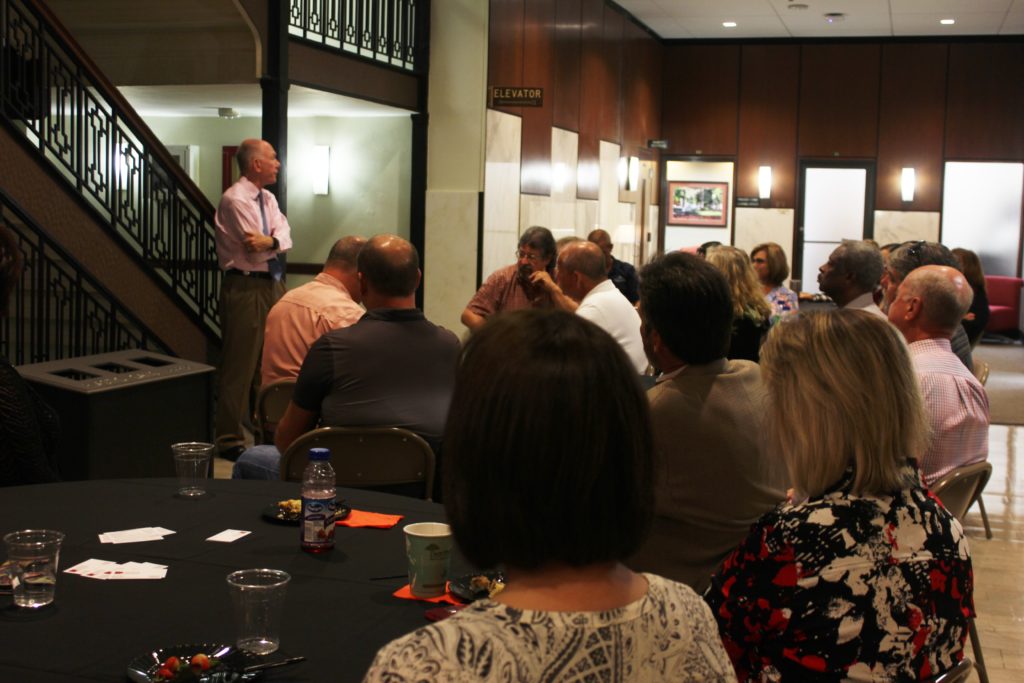 Suzy Latare, MAPS coordinator, said the event's focus is to build relationships and find out more about where Warrensburg's landlords and property managers are coming from and what kind of interactions they have with UCM students. She said she's excited to see the positive things UCM and Warrensburg community members can work on together.
"It's an opportunity to build professional friendships with the people in town who truly provide a service that the university can't," Latare said.
Latare said the landlords have a challenging job. She's heard many stories about students leaving their property a mess for the landlords and property owners.
"There's a landlord who showed me a house, a three bedroom, the person who moved out was a student here and left trash everywhere," Latare said. "In every room, there was trash. On the floor, on the counters, the refrigerator's dirty, and there was a broken window in the back door."
Latare said the landlords in Warrensburg have a big heart for UCM students.
"They do what they do, not just because it's money making, but because they actually really like students and they want to support students," she said.
Latare said students need to understand the importance of being good renters, because it affects them in the future.
"For students, especially if it's the first time they have lived on their own, it's a wonderful very free, independent feeling, but there's also a lot of responsibility that comes with that," she said.
Latare said MAPS wants to reach out into the community in many different ways, to make sure that the university is a good community partner.
"There's so many things that the university does already with the community," Latare said. "We just want to be pro-active about being that partner."
Ed Wirthwein, director of MAPS, said if there's a problem with students and landlords, MAPS wants to help the students by giving tips on how to be better renters in the future.
"We have a lot of students who live in the community," Wirthwein said.  "We want them to be engaged in the community, and be good neighbors."
Wirthwein said MAPS will help students understand the responsibilities and lease forms when they start renting properties.
"This is the first time some of our students have ever signed a lease," Wirthwein said. "Sometimes they'll sign them blindly."
Wirthwein said MAPS will help students read through the long leases and help educate them about prices.
"I know our students can get very excited when they can live off campus," Wirthwein said. "Sometimes they don't realize they have to pay for cable, trash, sewer and water."
AnJanell Parsons is a property manager at Mule Barns, and works at Foster/Knox childcare.
"I'm a full time employee here, so it's made the transition to property manager easy," Parsons said. "I've been able to relate to students by working here. As a property manager, every day is different. You don't know what to expect."
Parsons said sometimes she has to act like a mother to her tenants, by telling them the rules multiple times. She said the new programs from MAPS will help remind and educate students of responsibilities and rules of being a good tenant.
"It helps people who don't keep up with the times on campus," Parsons said. "It made that community connection, and we can see what growths the university has taken and what paths they're going to take."