Mules fall to Hornets in double overtime
By MORGAN BELLMER
Reporter
(WARRENSBURG, Mo., digitalBURG) — The UCM Mules football team put up a tough fight against the Emporia State University Hornets during Saturday's home game before falling 37-31 in double overtime.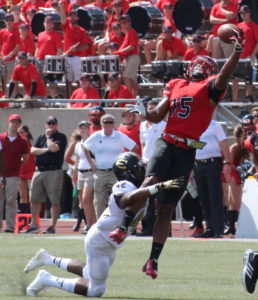 The fourth quarter of regular game play ended with Mules kicker Billy Greco making a 34-yard field goal with 7 seconds to go, tying the game at 24 all and pushing it into overtime.
The first overtime kicked off with a bang as Hornets quarterback Braxton Marstall rushed for two yards and a touchdown, bringing the score to 31-24. UCM answered when quarterback Garrett Fugate connected with tight end Seth Herbert for a 25-yard touchdown. Greco's extra point kick brought the score to 31 all and forced the second overtime. The game ended in second overtime as Marstall hit wide receiver Mitchell Foote for the game-winning touchdown.
"I feel like we just dug ourselves a hole early on in which we brought ourselves out of eventually, and when the time came to make the plays we needed we just didn't get it done," said junior wide receiver Tyler Jones. "Things like this happen all the time with good teams and last game was the perfect example of it."
Senior wide receiver Andrew Bakker said the loss was a tough one, but the Mules' spirits aren't down.
"It helps us in practice because now we know to have a sense of urgency, it gives guys an understanding of what we need to do to stay in the hunt for a national championship," Bakker said.
Central was undefeated going into Saturday's game. The loss to Emporia puts them at 3-1.
"We have to make sure we minimize the mistakes but I do think that we will learn from the mistakes we made and we will build off of it to make us a better team for next week," said senior running back Gabe Vandiver.
The Mules play Northwest Missouri State University Saturday, Oct. 1, at Arrowhead Stadium. The Bearcats are currently 4-0 so the Mules are going to have some tough competition.
Vandiver said the team is going to work that much harder at practice.
"We just have to come out and have a great week of practice, nothing out of the ordinary, just execute like we know how and I think it will be a great game," Vandiver said.