Mules momentum carries team to victory
By ALI OVERSTREET
Sports Editor
(WARRENSBURG, Mo., digitalBURG) — The Mules are 3-0 for the first time since 2009.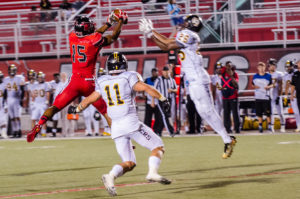 With victories against Pittsburg State University, Fort Hays State and Missouri Western, Mules football sits undefeated. The team has started each game strong, with hard hits and graceful catches right off the bat. They look to continue that momentum Saturday, Sept. 24, against Emporia State.
Quarterback Garrett Fugate threw for 306 yards in the Mules' home opener against Fort Hays State, connecting with Jaylen Zachery twice in the first quarter to put the Mules on the scoreboard.
"It is always great to get off to a good start in a game, especially in the first home game," Fugate said. "So it was awesome to get two big touchdowns that early on."
The Mules continued their streak in St. Joseph against an also undefeated Missouri Western. The team's 38-34 win over the Griffons was close, seeing neither team keep the lead for long. Mules long snapper Garrett Cline said the victory was a big one.
"Missouri Western is a team that is going to be a competitor for the conference championship each year," Cline said. "Anytime you can get a win over a team of their caliber, at their home field, that's a huge victory."
The Missouri Western game was defensive coordinator Wes Bell's first meeting against his former team. He coached for the Griffons for more than nine years before coming to UCM this past May.
"(I) coach it like any other game," Bell said. "Didn't treat it too crazy. Obviously I knew a lot of their players – mostly every single starter. A lot of those kids I've been around for four or five years, being (at Missouri Western) for 10. I know strengths and weakness for some… (But I) try to keep all that out and approach it like any other game, like I didn't know them."
Bell said he's going to focus on simplicity with the defense and trying to enable his players to play fast when the Mules face Emporia State 1 p.m. Saturday, Sept. 24, during UCM's annual Family Weekend.
"That was probably one of the things I wish I could have back from last week," Bell said. "We went into last week with a really complex game plan defensively. I think I put too much on them last week, which is kind of why we looked a little bit disheveled at times and gave up some big plays."
Bell said the Mules' defense has dealt with injuries and has yet to play with all their starters. Despite the setbacks, Bell said the defense is in good shape.
"We've been pretty good defensively every week and we're getting better," Bell said. "(The) score and the amount of points we're giving up may not reflect it, but we are getting better each week. We're fitting things better. It's a work in progress."
Bell said he only has one goal for the Emporia State game.
"Keep them from scoring 34."
Fugate said the Mules will continue the momentum they started in the first three weeks, and that confidence should be noticeable on the field.
"Fans can expect a very confident team that is going to put out a high-paced, explosive offense and a defense that flies around and makes plays," Fugate said. "We are looking forward to another big home crowd."
Steven Spears contributed to this report.